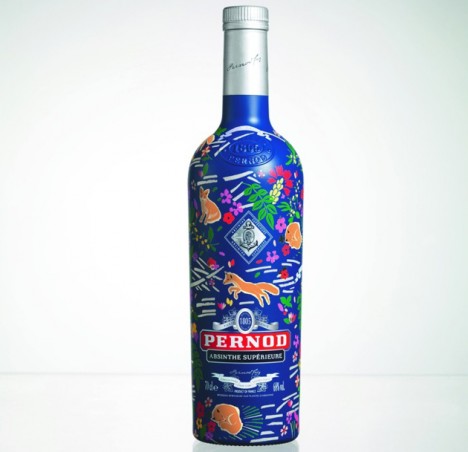 Foxes in a field of absinthe-flavoring anise and fennel flowers decorate the new limited-edition liquor bottle from Pernod Absinthe and Maison Kitsune.
Pernod Absinthe, the first distilled absinthe on the market, has partnered with Maison Kitsuné, a French electronic music and fashion label influenced by Japanese culture, to design these 1,805 limited edition bottles.
Pernod Absinthe, one of the most reputed producers of absinthe in France, produces the herbs blended beverage since 1805. The group continues to expand and its world exports increased by +30% from July 2011 to July 2012.
The contemporary Pernod liqueur d'anise is the cousing of Pernod Fils drink, the most popular brand of absinthe throughout the 19th century until it was banned in 1915. During the Belle Époque, the Pernod Fils name became synonymous with absinthe, and the brand represented the de facto standard of quality by which all others were judged.
Pernod-Ricard's absinthe is said to be made from extracts and colorants and claimed to be "inspired by the old formula".