This article titled "Paris matches masterpieces with Keys to a Passion exhibition" was written by Hannah Ellis-Petersen in Paris, for theguardian.com on Friday 3rd April 2015 14.15 UTC
Affluence and grandeur are not hard to come by in the wealthy enclave of Passy in western Paris's 16th arrondissement. Wide boulevards are lined with towering five-storey villas and cascading magnolia trees lead up to the pristine Jardin d'Acclimatation, the 150-year-old park dedicated to the children of the city.
But since October the houses of French high society have sat in the shadow of an even more opulent addition to their landscape. The Fondation Louis Vuitton, designed by Canadian architect Frank Gehry, rises 50 metres into the air, cloaked in 11 vast sweeping sails of glass and steel. It was first commissioned in 2001 by Bernard Arnault, the billionaire head of the LVMH luxury brand empire, who since the early 2000s has been an avid collector of contemporary and modern art.
For such a monument to luxury and beauty, it seems fitting that the first historical art exhibition to open at the foundation is a celebration of some of the most recognisable contemporary artworks in the world. Masterpieces by Matisse and Picasso, Monet and Malevich, Bacon, Rothko and Mondrian have this week been displayed together for the first time.
It certainly is a remarkable feat. Many of these pieces form the valuable centrepiece of collections in art institutions as far flung as the the MoMa in New York, the State Hermitage Museum in St Petersburg and the Tate Modern in London, and as a result are often rarely loaned.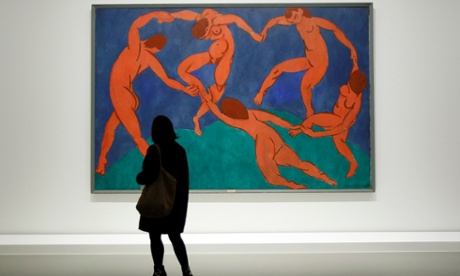 However, with a French business tycoon whose personal wealth is estimated at over £18bn at the helm of the foundation, the exhibition, entitled Keys to a Passion, is a testament to the greatest works that money can borrow.
Entering the foundation's lower galleries, the public is able to see Matisse's La Danse, usually found in the Russian State Hermitage Museum. It hangs in a gallery adjacent to two Francis Bacon 1949 portraits, Giacometti's Walking Man, Monet's Waterlillies and Rothko's No 46 (Black, Ochre, Red Over Red) among many others.
The earliest work on display is Munch's The Scream, painted in 1893, which was famously stolen from the wall of Oslo's Munch gallery by two men in balaclavas in 2004 and only uncovered two years later. It was a piece that was not even loaned to the Pompidou Centre in Paris for its 2012 Munch retrospective.
The show is a statement opener for the foundation, forcefully asserting its position in the crowded European art scene. It comes at a time when luxury brands are increasingly turning to arts and philanthropy, a trend that began 30 years ago with the Cartier Foundation – which is also based in Paris – and has since been adopted by design houses such as Prada, whose influential art foundation is opening a large gallery of its own in the heart of industrial Milan later this year designed by Rem Koolhaas.
The task of ensuring these masterpieces did not overshadow each other fell to Suzanne Pagé, the foundation's chief curator. Pagé, who was the former director of Musée d'Art Moderne de la Ville de Paris and widely considered a catch for the foundation, curated the exhibition around four themes; subjective expressionism, contemplative, popist and music.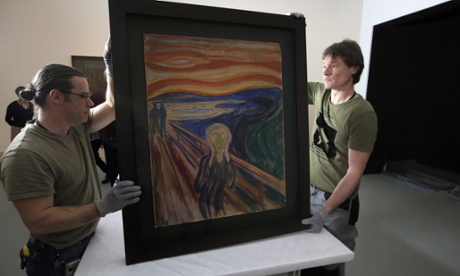 The opening room of the show grapples with questions of human anguish, solitude and death though pieces by Munch, Bacon and Giacometti. Another gallery has Pierre Bonnard's Summer hung next to two of Pablo Picasso's voluptuous reclining nudes, juxtaposing their diverse but equally joyous explorations of hedonism.
Pagé said: "This exhibition defines the remits of this foundation. We have observed that by breaking the rules and by departing from the rules, by producing single, irreducible works of art, the artists we see here have made their works continually significant, everlasting and powerful."
At the heart of the exhibition is a room exploring contemplation through the radical abstraction of Rothko and Malevich. Rothko's powerful red canvas of No 46 provides a powerful counterpoint to Malevich's 1923 trio of Black Circle, Square and Cross paintings hanging opposite, some of the first works to break away from depicting reality and invent a revolutionary new world of shape and form on the canvas.
The show reaches a grande finale with two vast works by Matisse displayed alongside series of abstract paintings by Russian painter Kandinsky. Explaining the thought behind the room, Pagé said: "We tried to look at the close relationship between music and art, how music can be a driving force for artists. There is an obvious and implicit relationship and we have chosen iconic works such as Matisse's La Danse and four pieces by Kandinsky that demonstrate this."
She added: "We want visitors to really experience this presence, the aura of these works of art. It's mysterious but we know there is such a thing. In this world of speed, this experience requires time and concentration."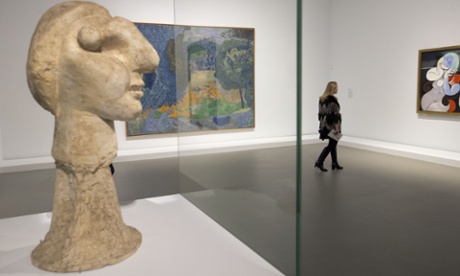 Jean-Paul Claverie, an adviser to Arnault for over 20 years who was closely involved in orchestrating the show, explained that when the exhibition had first been proposed three years ago it had been viewed as an impossible pipe dream.
"At the very beginning, when we had the idea, I considered this exhibition to be a utopia," he said. "I thought it would be impossible to gather together all these works because when we sent the early letters asking to borrow the pieces, the foundation didn't exist.
"But we were very surprised by the positive reaction of many of the contributors and museums. I don't know why, but I think it was mainly because the theme of the exhibition is very interesting. It was about exploring art history but also asking what is an icon? What is an icon in our world? What is an icon for the public?"
During the construction of the foundation, many of the directors running the world's great art institutions came to visit the site, from MoMa's Glenn Lowry to the Tate's Nicholas Serota.
Securing Matisse's La Danse from St Petersburg had been a particular challenge, Claverie said, as it is an enormous artwork that is rarely loaned and the foundation had to demonstrate it was capable of the extensive security required to house such a valuable masterpiece.
"Mr Arnault has been one of the major philanthropists in arts for more than 20 years, and we have very strong links with most of the major arts institutions. That was very important. Also, the building is already emblematic, it is incredible and that helped towards the success of us landing these loans," he added. "Of course, having all these works here is a big risk, but now the foundation is recognised as a real museum."
Claverie recounted how Gehry had visited during the hanging of the show last week and had been "overwhelmed" that his building was now housing some of the most valuable and recognisable artworks in the world.
"You can't imagine how moved Frank was to discover that in his building, in his architecture, such pieces had been gathered," he said.
guardian.co.uk © Guardian News & Media Limited 2010
Published via the Guardian News Feed plugin for WordPress.