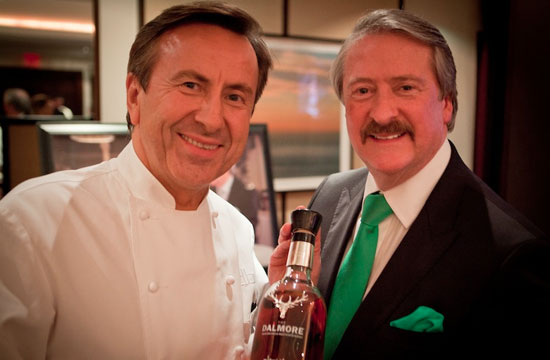 Pairing haute cuisine with beverages other than wine has become an emerging trend. Michelin-starred chef Daniel Boulud created a bespoke single malt Scotch with Dalmore's master blender Richard Paterson. The bespoke single malt scotch whisky based on fusion of flavors will be paired with a specially designed menu at Boulud's New York restaurants.
Bottled at 44 percent proof with an amber honey-colored spirit, Boulud flavors for whisky range from "moist banana fig cake, plums, to mocha, fudge, Turkish delight, and black maraschino cherries." Dalmore's master blender Richard Paterson also added pear, apple, citrus fruits, cherries, licorice, and crushed almonds in Boulud x Dalmore bespoke blend.
"There is definitely a connection between a Master Blender and a Master Chef. I'm looking forward to learn his experience in the tasting relation between whisky and food," confessed Boulud.
"The people that come here to Daniel's wonderful New York restaurant are looking for something, they're looking for the best, and I hope with the combination of Daniel and myself our talents will be matched together and more importantly will be appreciated by his many, many discerning guests," added Richard Paterson.
The whisky is available exclusively in Boulud's New York restaurants Daniel, Cafe Boulud and Boulud Sud. Dalmore selected by Daniel Boulud will launch in in April, with a price tag of around US$45-$60 per glass.