One of perhaps six known working Apple 1 computer went up for auction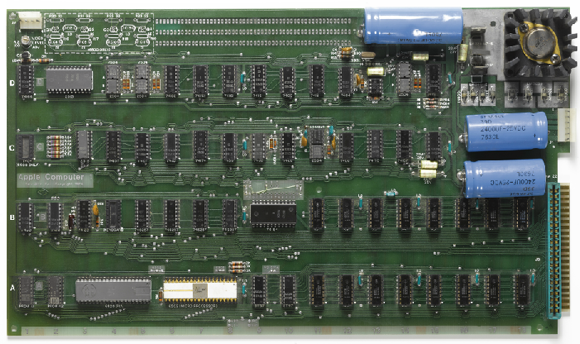 Sotheby'ssold Apple's founding corporate papers — signed by Steve Jobs, Steve Wozniak and Ron Wayne — in December for nearly $1.6 million. Another Apple memorabilia went up for auction at Sotheby's. An exceptionally rare, working Apple 1 computer with original Apple cassette interface, operation manuals and a rare BASIC Users' Manual was sold for $374,500 including the 12% buyer's premium at a Sotheby's action in New York.. It is thought that fewer than 50 Apple I Computers survive, with only 6 known to be in working.
Filed under "Fine Books and Manuscripts," the motherboard is operational and is marked "Apple Computer 1" and dated 1976.
When Steve Wozniak and Steve Jobs presented the Apple I Computer to the Homebrew Computer Club in 1976, it was dismissed by everyone but Paul Terrell, the owner of a chain of stores called Byte Shop. Terrell ordered 50 computers for $500 apiece, insisting that the circuit boards come fully assembled rather than as DIY kits similar to the Altair, and Jobs and Woz managed to produce the requisite computers in 30 days. They continued production, immediately creating 50 additional Apple I's to sell to friends and an additional 100 to sell through vendors, at a retail price of $666.66, a number that garnered complaints among conservative Christians, but provided a lucrative 33% markup.
As the first ready-made personal computer, the Apple I signaled a new age in which computing became accessible tothe masses. The interface of circuitry and software that Woz created enabled users to type letters with "a human typable keyboard instead of a stupid, cryptic front panel with a bunch of lights and switches," as he explained to the Homebrew Computer Club. Even so, it was sold without a keyboard, monitor, case, or power supply.