Etihad posts new single day bookings record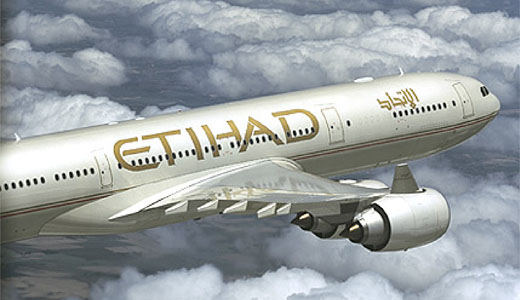 Etihad Airways is experiencing exceptional demand for flights across our network for this weekend and into the summer. 65,500 Etihad flight bookings were made on 11th June, establishing a new record for flights bookings in a single day for Etihad. The figure exceeded the previous record – on January 9 – by 13 percent, the carrier said in a statement, quoted by arabianbusiness.
Advance premium cabin bookings for a single day were also set to beat previous Etihad Airways records, with nearly 2,900 combined bookings already received for Diamond First and Pearl Business Class flights for Sunday.
Etihad Airways will operate 1,262 flights each week in the summer of 2012, compared to 1,106 flights in the summer of 2011, an increase of 14 percent.
The airline has 280,498 seats on its flights available each week compared to 235,818 seats per week last summer, an increase of 19 percent.
Since summer 2011 Etihad Airways has launched services to Shanghai, Nairobi, Basra, Male, Seychelles, Chengdu, Dusseldorf, and Tripoli. On July 1, it will begin flying to Lagos.