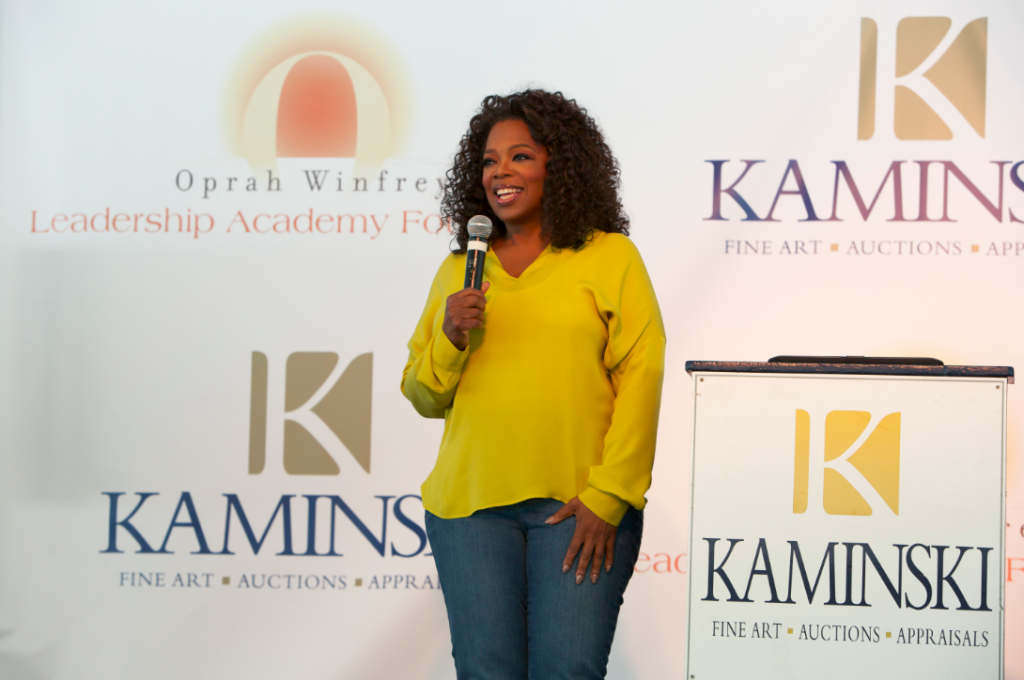 The Oprah Winfrey Collection Kaminski auction at the Santa Barbara Polo and Racquet club offered antiques, contemporary furnishings, fine art and signed memorabilia from Oprah's residences in Indiana, Maui, Chicago, and Santa Barbara. The auction raised over $600,000 that will benefit the Oprah Winfrey Leadership Academy Foundation College Fund. The fund is dedicated to helping graduates of The Oprah Winfrey Leadership Academy for Girls — South Africa, to attend colleges and universities around the world.
With a quick lesson from auctioneer Frank Kaminski, Oprah got the excited crowd going by auctioning off the first five lots of the sale. The first two items in the sale were canvas banners from "The Color Purple," which sold for $4,100 and $6,000. Oprah Winfrey personally inscribed these to the excited buyers and the momentum of the sale built from there.
Top furniture lots in the sale were an 18th century Louis XVI Leonard Boudin signed bureau that sold for $25,200 and an 18th century Swedish tall clock that sold for $10,200. A French Art Deco style bar attracted many interested buyers, finally hammering down for $6,000, while an 19th century English tilt top breakfast table with burl wood veneer, sold for $7,800.
Art in the sale sold particularly well. A M. Burroughs painting titled "Cubist Women" sold for $15,600 while a signed Robinson gouache titled "Four Girls Looking Through a Window," sold for $7,200, far above the pre auction estimate of $300-$500. A painting by Allen Stringfellow (1923-2004) titled "Jazz on Royal" sold for $8,400. In addition, a nativity scene by Clementine Hunter (1886-1988), oil on board, sold for $7,500.
Memorabilia in the sale did particularly well, selling often for many times above the high estimate, as did everything signed by Oprah. A Jetson electric bike valued at $1,000-$2,000 sold for $6,300, while a Bottega Veneta steamer trunk that Oprah stored her sweaters in, also estimated at $1,000-$2,000 sold for $10,200.