---
This article titled "New York Fashion Week: Michael Kors cuts loose on the catwalk" was written by Hannah Marriott, for theguardian.com on Thursday 17th September 2015 10.21 UTC
Michael Kors is a master of the fabulous. A star-packed front row is a given for a mega brand of his calibre, but the presentation of spring/summer collection, in New York City's light-filled Spring Studios on Wednesday, offered an elevated level of celebrity management: one front-row seat was cordoned off with a rope and guarded by two bouncers to ensure nobody sat in it by accident. It's intended occupant turned out to be Naomi Watts, whose shiny blond bob nestled between Mario Testino and Olivia Wilde.
It was all pretty fabulous on the catwalk, too. As ever, the clothes in the US designer's premium line (renamed Michael Kors Collection this season, having previously been known as Michael Kors) were luxe and evocative, conjuring up an irresistible, aspirational lifestyle.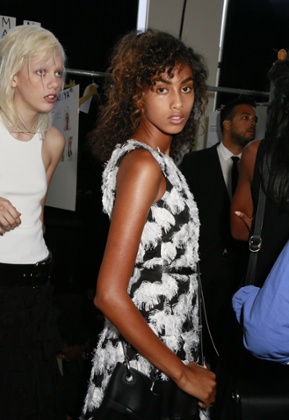 Clothes that were loose and flowing, with billowing silk georgette poet's blouses half-tucked into soft, fil coupe skirts, or linen duster coats worn over loose, lightweight trousers. Long straps of fabric and ruffles added more texture. Even when there were straight lines – tailored jackets and neat little sky-blue dresses – they were decorated with rough-silk applique flowers. This loose, unstructured sexiness was in line with fashion's current vision of the ideal woman right now: it is not enough simply to be glamorous; one must also appear to be carefree, quirky and intelligent.
Speaking before the show, Kors said that the collection was elegant "outdoorsy" and "earthy", inspired by two outstanding women: artist Georgia O'Keeffe and jewellery designer Elsa Peretti, whom he described as "smart, successful, creative and chic".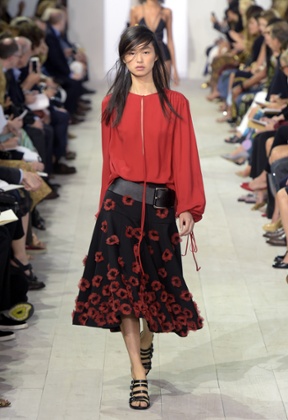 One show-stopper was a mid-calf, straw-coloured perforated suede jacket which, Kors said: "You could put on over your yoga clothes – because, sadly, people leave their house in their yoga clothes all over the world – and suddenly you would feel a million dollars. And it would cost you a million dollars, too."
Kors was exaggerating about the price by a zero or two, but this collection will certainly be expensive – a dress could easily cost £3,000. It's a world away from the more affordable luxury that has made Kors a household name over the past few years: the £300 handbags from his cheaper "Michael Michael Kors" range, with golden "MK" logos, that have become ubiquitous on the high streets. Those bags filled the gap created when brands such as Mulberry hoiked up their prices; the brand's £250 watches – chunky metal bands; diamante-encrusted faces – offer a similar shot of pay-day luxury.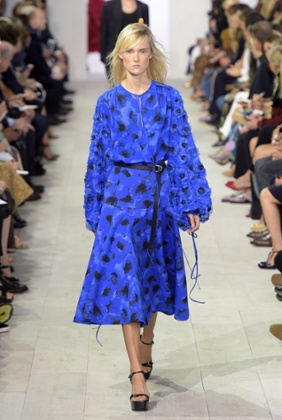 Though that democratic approach has pleased customers worldwide, many financial analysts have recently urged caution, arguing that, in the luxury industry, a sense of exclusivity should be cultivated at all costs. Some have even started warning of impending doom for the brand through overexposure. Sales have been slowing for more than a year, although in the first three months of the current financial year, revenue rose by 7.3% to a better than expected $986m (£636m).
Juggling the two ends of the business will be the continuing challenge for Kors, who made the Forbes billionaires list in February this year, and is currently worth around $915m.
Certainly, there has never been a more important time to mark a line in the sand between the rarefied end of Kors' business and the more populist handbags and watches. Today's show – packed with celebrities and staggeringly expensive fabrics, with the brand subtly but significantly renamed – should help.
guardian.co.uk © Guardian News & Media Limited 2010
Published via the Guardian News Feed plugin for WordPress.