L'Epée 1839 seizes control of Planet Earth with the launch of its new kinetic timepiece: Gaz Derrick table clock. Hours and minutes rise up from the movement and involve a new caliber. After having developed a movement with arms for Sherman, or legs (Arachnophobia) or even accompanying it with a skull mechanism (Requiem), L'Epée is bringing one of its signature calibre movements back to the table and offsets the hour and minute indicators thanks to bevel gears – a new technical challenge.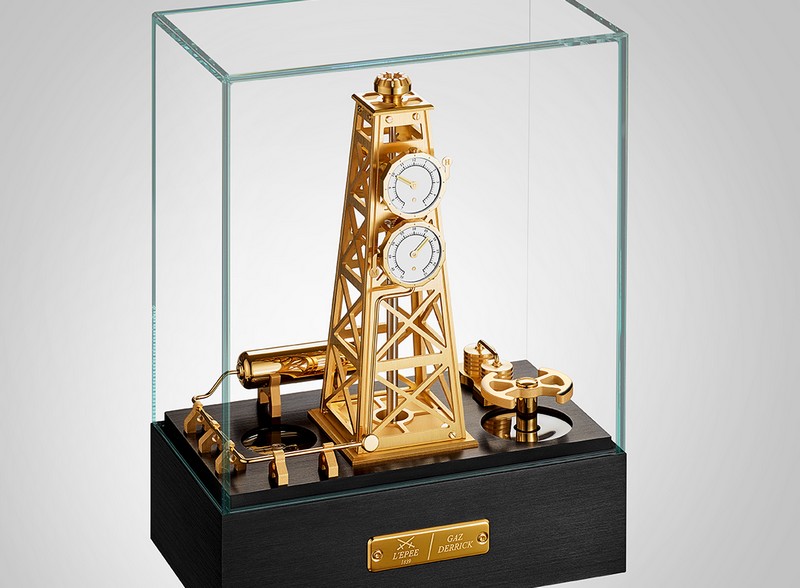 This new kinetic timepiece from L'Epée 1839 it's true to life, but is still a thing of beauty. Designed, developed and manufactured by L'Epée 1839 in the Jura (Switzerland), Gaz Derrick takes its inspiration from vast industrial landscapes.
Just as rich mineral resources are extracted from beneath the ground to fuel the need for power, the Gaz Derrick by L'Epée 1839 runs on the energy of its barrel located inside the base, underneath the derrick. Regulators used in the petroleum industry are based on a system of pressure relief valves;
here, the same happens but in the form of a time regulator with its actuator gear train and escapement. A signature feature for the brand, the mechanism is visible through potholes, enabling those who like beauty and mechanical structures to appreciate the workmanship.
Day or night, drilling platforms must keep running and need to be able to provide information on their status…. So, Gaz Derrick features two hands equipped with Superluminova so that you can read the time regardless of the lighting.
Reading the time as reading gage: Hours and minutes are displayed on two distinct and independent dials – somehow like a regulator – placed on top of each other, in the middle of the derrick. The similarities between the dials and true industrial gages are such that they drive us to the command- centre of the gaz derrick. All around, there are several elements, evoking a detailed realism, that pique your curiosity: valves, pipelines, reservoirs, pumps, and even a central drilling axis. The scenery of a complete exploitation.
Similar to conventional structures, the clock mechanism is powered by the earth's energy. The power source is located in the black base that supports the various decorative elements. A careful eye will easily find the gears, escapement and the unique barrel that keeps energy.
The movement allows for precise timekeeping for up to 7 days. Made up of 281 fine pieces and expertly assembled by hand, the handiwork can be admired through discreet openings at the base of the derrick.
Gaz Derrick is available in two limited editions (50 pieces each) with a black base; the movement and elements are either yellow gold- or palladium-plated.