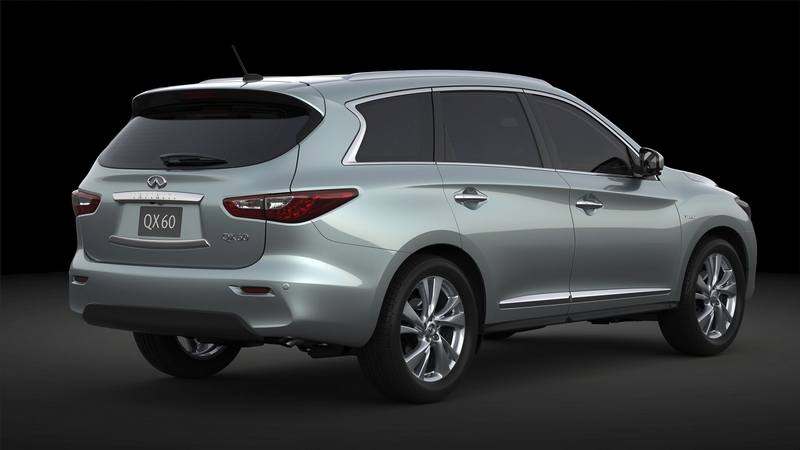 Launched in early 2012 as the Infiniti JX35, the Infiniti QX60 has quickly become one of the most popular vehicles in the expanding luxury crossover market. It is also one of Infiniti's best-selling models, second only to the current Infiniti G line, and has grown Infiniti's presence in the premium market by capturing family buyers with its advanced 7 -passenger/3-row seating.
For 2013, Infiniti announces a new hybrid version of 2014 Infiniti QX60 premium crossover. With the addition of the new QX60 Hybrid to the Q70 Hybrid (currently available as the M Hybrid) and previously announced Q50 Hybrid, Infiniti will have a trio of advanced Direct Response Hybrids for the 2014 model year.
The new QX60 Hybrid will be powered by a 2.5-liter supercharged engine and 15 kW electric motor connected to an advanced CVT (Continuously Variable Transmission). Net system horsepower is estimated at 250 horsepower. Based on technology found in the Infiniti M35h Hybrid, the QX60 Hybrid's Infiniti Direct Response Hybrid® system uses a compact Lithium-ion battery and electric motor to provide supplementary power through its one-motor/two-clutch system. The result is a delivery of power equivalent to the 3.5-liter V6 but with 4-cylinder fuel economy. An Intelligent Regenerative Braking system partially recharges the battery during vehicle braking.
In addition, with use of the compact Li-ion battery located under the 3rd row seat, the QX60 Hybrid maintains its flat rear floor for easier passenger access to the rear seats and no impact to cargo room. The QX60 Hybrid will also offer a wide range of available advanced technologies, such as Backup Collision Intervention (BCI) and Around View Monitor.
The new hybrid model is projected to realize 26 miles per gallon fuel economy (combined city/highway driving) – a 24 percent increase over non-hybrid QX60 models and is projected to have best 7-passenger fuel efficiency in the segment.