Las Vegas musical fountain for your garden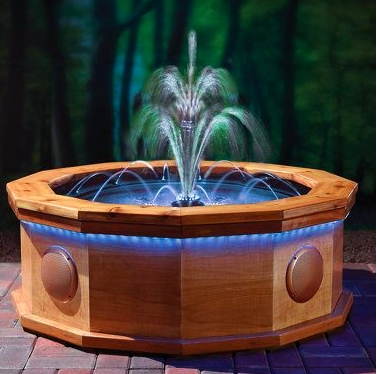 If you love Las Vegas aquatic choreography at Bellagio hotel, a musical fountain for your garden will be a perfect gift. The professionally choreographed orchestral fountain by Hammacher Schlemmer is like a small copy of Fountains of Bellagio.
The hand-made fountain projects lighted waterspouts that are synchronized with music. A computer chip inside the fountain synchronizes the multicolored light patterns, the height of the waterspouts, and the side-to-side movement of twelve water nozzles with the melody of the music.
The music is transmitted through four 200-watt speakers built into the side panels and a 100-watt amp that generate crisp, clear sound.
The musical fountain is controlled by the included tablet computer, allowing users to select songs, adjust the volume, or change the choreography of the light and water show from up to 30′ away.
The fountain has a cedar and birch exterior and after its basin is filled, the water is continuously re-circulated to eliminate the need for a connected water source. The garden luxury accessory priced at $7,000 comes preloaded with 100 individually choreographed songs or plays any digital music from a personal collection.