Chinese private jet dealer's sales take off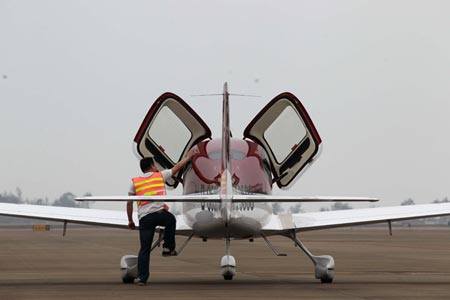 China's private jet owners haven't really been able to enjoy the thrill of flying, as every private flight requires a lengthy approval procedure under strict regulations. And it remains inconvenient for the super-rich to fuel, park or repair their new toys as the jet services sector is still in its infancy.
Despite strict government restrictions in the sector China's super-rich have a strong appetite for luxury air travel. The impressive sales of a south China private jet dealer just a week into the company's existence have reaffirmed the need for jet services.
Zhuhai Cirrus General Aviation (Zhuhai BAC) has sold 14 aircraft since opening for business on Friday, announced Xinhua.
The models sold were U.S.-made lightweight Cirrus SR20s and SR22s, priced nearly 480,000 U.S. dollars) and 5 million yuan respectively, Chen Shaochang, general manager of the firm, said.
The dealer in the city of Zhuhai, Guangdong province is the country's first fixed-base operator (FBO) that provides aeronautical services such as fueling, hangaring and aircraft maintenance.
Chen said the company — promoted under the slogan "Flying is a lifestyle" — is targeting building up 40 FBO stores across the country, but particularly in the northeastern region.