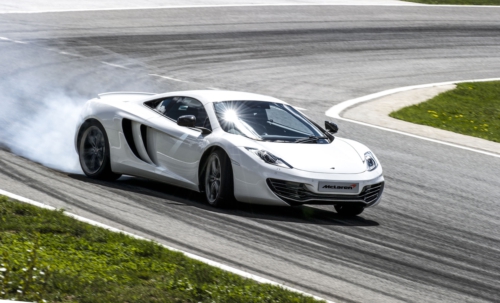 McLaren Automotive has a 20 year heritage in producing landmark sports cars for the road: the McLaren F1 road car, which was launched in 1992, set the world land speed record for a production car, and is regarded as one of the iconic sports cars of the modern age. The Mercedes-Benz SLR McLaren (2003 – 2009) is the most successful supercar ever in its price bracket, having sold twice as many cars as its
nearest carbon-based rival.
McLaren Automotive has now moved from these successful automotive projects to launching high performance, highly efficient and technologically innovative sports cars. McLaren Automotive's debut model is the 12C. Drawing on the company's long-standing Formula 1 experience in its concept and development, the 12C is lighter, faster, more powerful, more fuel efficient and more exclusive than its key competition. It supports its performance benchmarks by introducing a unique one-piece moulded carbon chassis into the 'core' sports car segment in a new production method that brings the performance of 500,000 pounds Sterling cars to market at a third of the price. All future McLarens will continue the themes presented by the 12C: innovation, integration of Formula 1 technology, and ultimate performance.
The company has announced a package of enhancements that will make its 12C high performance sports car even more invigorating to drive yet even easier to live with.
Headlining the changes is a power increase that takes the maximum output of the mid mounted, twin turbocharged V8 engine to 616hp to give
yet more vivid acceleration at track speeds with no loss in efficiency. Modifications have been made by McLaren's engineers to the 12C's engine and SSG transmission increasing responsiveness.
Ease of use is further improved through a host of detail changes while a wider variety of paint, leather and wheel options give customers yet more scope for personalization. The 12C's unique Intake Sound Generator (ISG) system, which controls the amount of engine intake sound heard in the cabin, is now programmable across three levels in all three Powertrain modes allowing the driver to select the amount of aural drama he or she wants to enjoy, whatever the road. But one aspect that hasn't changed is the 12C's purposeful styling…apart from a subtle revision to the McLaren Speed Marque badge, that is.
This latest iteration of the 12C will go into production later this year and at a price that starts from $239,400 in the USA. Existing 12C owners to be offered complimentary upgrade to latest specification.