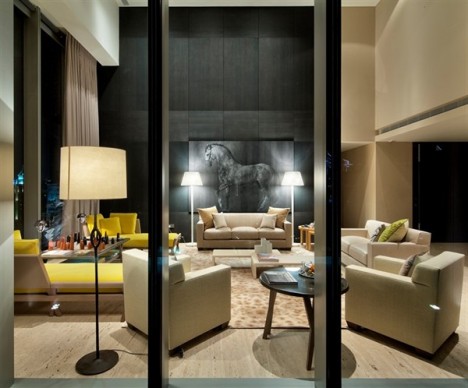 SC Global Developments, a leading developer of up-market residences in Singapore, unveiled the first apartment entirely decorated by Hermès. The private hospitality apartment is situated in The Marq on Paterson Hill, in Singapore.
The luxury 6,200 sq ft apartment at the Signature Tower at The Marq features a combination of Hermès furniture, furnishing fabrics, carpets, tableware, wallpapers, along with made-to-order leather upholstered items and a choice of artworks.
"We are extremely pleased this project with Hermès has presented a distinguished combination of craftsmanship, focus on design and finest quality materials. Each property and apartment in our portfolio is a jewel, we handcraft every unit and the project accomplished at The Marq is an epitome of these efforts" said Simon Cheong, Chairman and CEO of SC Global Developments.
For this bespoke interior design project, the French house appointed Yves Taralon, Creative Director of La Table Hermès and French renowned decorator, to lead the artistic direction of this project in a creative exchange with Michelle Cheong, Creative Director of the SC Global design team. Each design detail has been crafted according to the Hermès vision of "art de vivre".
In 2011, Hermès unveiled its contemporary furniture, furnishing fabrics, wallpaper and carpets collections, reaffirming its role in the world of the home, beyond its existing collections of decorative objects, tableware and textiles.
Hermès has in particular thrown open its doors and invited the designers Enzo Mari, Antonio Citterio and the RDAI studio (Rena Dumas Architecture Intérieure) to chart a new page in its history in the domain of furniture.
These pieces of contemporary furniture continue along the lines of Jean-Michel Frank"s "elemental sobriety" and of the furniture he created in the 1920s and 30s, some in collaboration with Hermès workshops, which have been reissued from 2010.
In 2012,  Hermès turns its attention to space, offering also a personalized interior design service. From objects and furniture to space, Hermès now puts its signature to a complete world for the home.
SC Global Developments Group has recently unveiled plans for their latest property Sculptura Ardmore located in the prestigious Ardmore Park enclave; a visionary development set to revolutionise the way luxury living spaces are interpreted within an architectural form designed as a beautiful and elegant sculptural work of art.
Other developments under construction include the ultra-luxurious resort-style Seven Palms, Sentosa Cove, Singapore"s only beachfront condominium development.