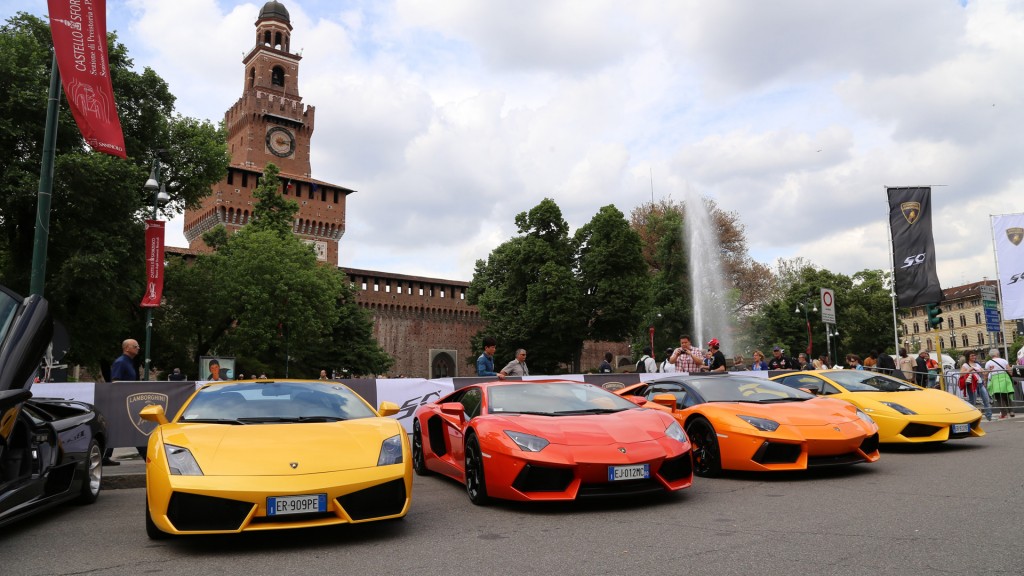 Lamborghini celebrates its 50th anniversary with the largest gathering ever of cars from the "House of the Raging Bull" – a convoy of some 4 km long and 190,000 hp on the road.
Lamborghini Grand Tour began from the Sforza Castle in Milan and ends on Saturday at the Lamborghini's headquarters near Bologna, where a gala dinner celebrating the Lamborghini 50th Anniversary will be held.
A photograph of the 350 participating Lamborghinis shows 29 different countries of origin of the participants, who have travelled to Italy to celebrate the 50th anniversary of the company based in Emilia Romagna.
The most substantial representation of participants in the Lamborghini Grand Tour is from the United Kingdom with 71 cars followed by Italy, Germany and Switzerland with over 30 participants each. In addition, there are 21 cars with plates from the USA and 17 from China. The other countries represented are: Australia, Austria, Belgium, Canada, France, Hong Kong, Indonesia, Ireland, Japan, Kuwait, Lebanon, Liechtenstein, Luxembourg, New Zealand, Norway, Portugal, Principato di Monaco, Singapore, South Korea, Taiwan, The Netherlands, Tunisia, Ukraine.
Historic Lamborghini cars on tour include three 350 GTs, five 400 GTs, seventeen Miuras, eight Espadas, two Jaramas, six Urracos, 15 Countachs, one LM 002, 21 Diablos and 36 Murcielagos. The record for number of cars participating goes to the Gallardo, the most successful Lamborghini model of all time, with 123 cars registered amongst the participants.
"For 50 years, Lamborghini has been the object of dreams and the symbol of Made in Italy. Our supersports cars are always on the edge of the most advanced technological innovation and for this reason the claim that we have set for our anniversary is '100 years of innovation in half the time'.
Since our founder Ferruccio Lamborghini first founded the company, a characteristic inherent in our DNA is to address the challenge and not overcome it, but to push boundaries to achieve something even more extraordinary," said Stephan Winkelmann, President and CEO of Automobili Lamborghini. "
The 50th Anniversary Grand Tour, with more than 700 participants representing 29 countries, is evidence of the global dimension our brand enjoys today, and the strength of the Lamborghini myth that continues to grow."