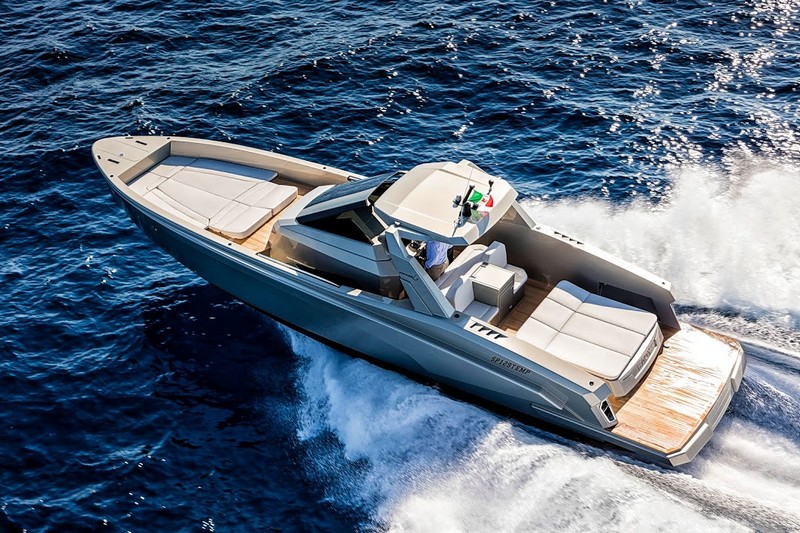 Coming out of the pencil of the multi-award winning Luca Dini of Cantiere Navale Italia, a designer that needs no  presentation, the lines of the Kifaru Yacht range carry a strong family feeling, giving to each boat an immediate recognizability.
Equipped with two Yanmar 370 hp diesel engines, the new 2015 Kifaru Baby is a completely aluminum 13m open class small super yacht designed for expert owners who can readily recognize quality, technical innovation and refined styling, and who are looking for a compact yacht or an exclusive luxury tender.
Presented at this years major boat shows like Cannes Yachting Festival (8-13 September, 2015), Monaco Yacht Show (23-26 September 2015) and Salone Nautico Genova 2015, Kifaru Baby Yacht will have a maximum speed of 42 knots, while keeping very low fuel consumption values.
The lightness of the hull entirely built in class 5 Paralum 5083H11 (known for exceptional resistance to corrosion) and the high efficiency of the waterlines allow for exciting performances, while keeping fuel consumption to a minimum. Thanks to the aluminum construction and variable geometry hull Kifaru Baby is a perfect match for all propulsion choices. The customer can choose between STERNDRIVES, SHAFT LINES and ARNESON SURFACE DRIVES, to ensure a really tailor made sailing experience.
The full touch screen dashboard, developed in collaboration with Naviop, is a distinctive design element and the true heart of the boat. In addition to integrating all the navigation equipment, it also controls all the systems and the home automation, constituting an integrated bridge system normally found only on the most prestigious superyachts.
The interior features a true hotel suite cabin with a king size bed and a spacious toilet with separate shower, and a large bow sun deck that converts into a dining area for six people with tale electric up/down table.
"To bring into the world the drawings on the paper, we chose ALUMINUM as our construction material, believing that it would, not only set us apart from the current panorama of somehow soul less GRP boat, but also be the right direction to go in order to satisfy the needs of an Owner looking for real quality through the years," explained Cantiere Navale Italia.
"When designing Baby, we had one goal: making the most demanding Owners feel right at home. That's why we didn't accept any compromise in the comfort and usability of the yacht: her electric up/down dining table (that comfortably sits six) and one meter wide hydraulic bathing ladder/gangway, along with a hotel suite cabin with queen size bed and a full bathroom with separated shower, will transform even the shortest cruise in a full immersion in luxury," added CNI.
Kifaru Yachts brand was founded in 2009 and has quickly become particularly famous for the launch of 63′ Askari formally belonged to a well-know football coach of international renown.