---
This article titled "The geek v the extrovert: Milan's fashion face-off" was written by Jess Cartner-Morley and Hannah Marriott, for theguardian.com on Tuesday 29th September 2015 16.52 UTC
Molto geeky
News just in from Milan fashion week: the pouting sexpot who has ruled the Italian catwalks since the middle ages – it has felt that long, anyway – has been usurped by a girl in glasses with hair tucked behind her ears. One in sensible shoes who looks like she might be wearing a vest under her frock.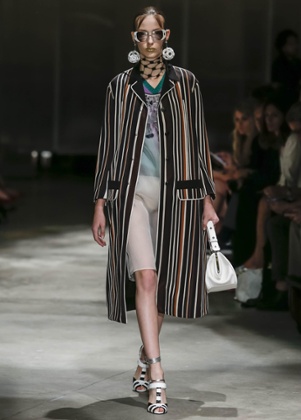 Six months after Gucci staged a dramatic about-turn from glamour to geek-chic, what was once subversive has hit the mainstream. Prada's offbeat glamour – a fancy skirt, a cashmere sweater, an expensive clompy shoe – has gone from being a quirky footnote to Milanese fashion to being the front-page story. But Milan is still Milan, and the new-season geek is no drab wallflower. Nerd chic has been amped-up with colour and attitude. It's not just geeky, it's molto geeky. Italian fashion is about showmanship, not introspection, so there is nothing shy or retiring about this look. It is one part homage to the Log Lady of Twin Peaks (RIP), one part red carpet at an arthouse film festival. It is a deadpan stare instead of a pout – but with bright lipstick. It may not be overtly sexy, but it is intriguingly déshabillé.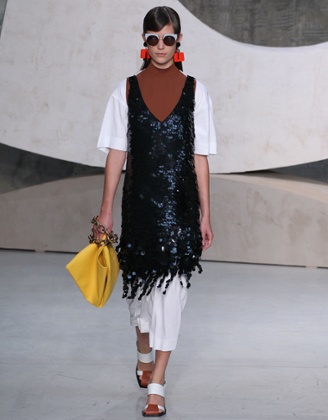 The look starts with bold lines and gaudy colour. A green skirt suit, say, or a red coat. Deckchair stripes, or upholstery patterns, or both. And then you need a blouse; possibly in a clashing colour, with either a bow or brooch at the neck, as at Gucci, or undone when you would expect it to be buttoned up, as at Jil Sander. Where the Milanese party-babe is all slick, carefree polish – a cocktail frock and a clutch just big enough for lipstick – this look has a more bumbling charm. At Marni, unexpected colours and textures seemed piled on top of each other almost at random. Embrace the coat that doesn't obviously work with the outfit beneath; rejoice in carrying a bag big enough to stash a novel or a diary-in-progress.
Last season, the molto geek was all about a trouser suit with the hems cropped slightly short. This time, she has reclaimed the skirt suit – a bold move, since the skirt suit is the land that fashion forgot. The references are retro, but never in a simple pin-up way. Think 1980s-style mega plastic earrings, a Renaissance-princess sleeve, a touch of lurex or metallic for 70s Italian disco glamour. Who needs a party frock to have fun? JCM
Show-off chic
Analogue geeky style makes a lot of sense in the otherwise shouty age of Instagram. But what if prescription-free spectacles and an ostentatiously carried copy of Infinite Jest aren't your thing? Could you be Team Extrovert instead?
Milan's take on the extrovert seemed inspired by anyone too gregarious to bear quiet, solitary hours in a library (where, as the T-shirt says, "shhh happens"). Donatella Versace's version would have been at ease in a nightclub, or pretty much anywhere else, for that matter – the designer said she was "fearless" and "a fighter", wearing OTT prints that swirled between leopard print, zebra stripe and camouflage and tough, military-influenced tailoring.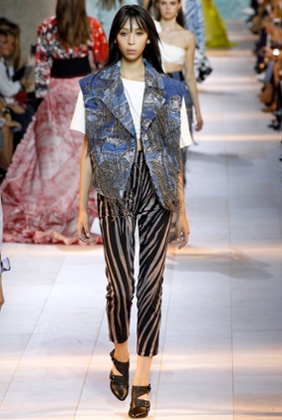 At Cavalli and Fendi, the extrovert was a 9pm-5am kind of creature clad in 1980s glitz: bright red, big-shouldered romper suits or spray-on pastel jeans with lurex batwing tops. Cavalli displayed the ultimate show-off dresses – very short at the front, very long at the back; basically, tiny miniskirts with the additional billowing drama of a superhero cape.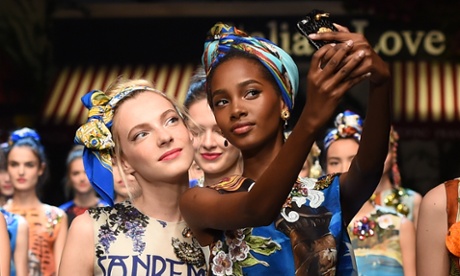 Clearly, the idea here is to pile on as much colour and bling as you can handle. And it's OK – you can totally show off during daylight hours as well. Moschino's collection was inspired by the car wash – all hi-vis lollipop man shades, oversized bottles of window cleaner as accessories and outfits fashioned after revolving washers and brushes. At Dolce & Gabbana, it was all about holidaying in Italy, with dresses decorated with sequinned lemons and renderings of Michelangelo's David. Models captured the hijinks by taking selfies, thus underlining the most important rule of Team Extrovert: if you don't share your look on social media, it didn't even happen. HM
guardian.co.uk © Guardian News & Media Limited 2010
Published via the Guardian News Feed plugin for WordPress.