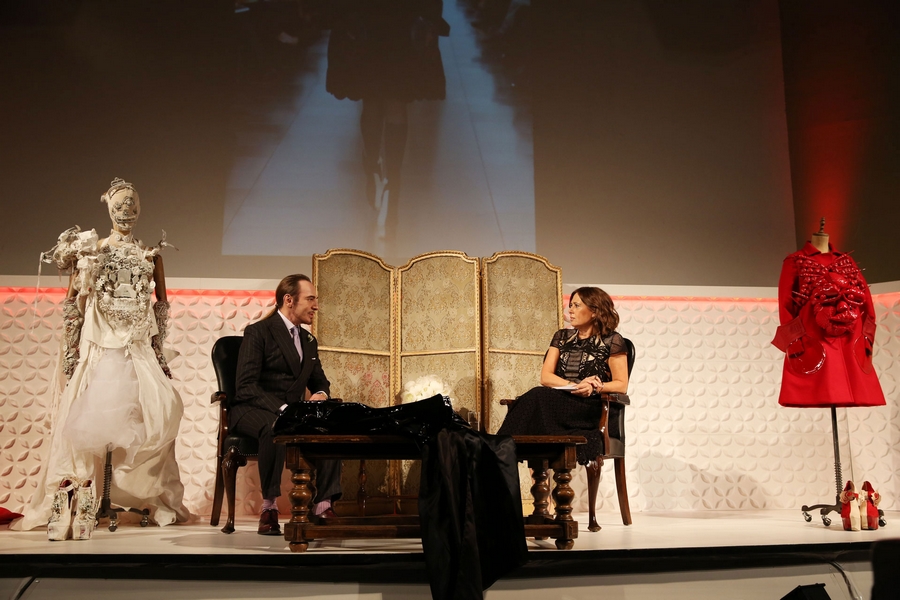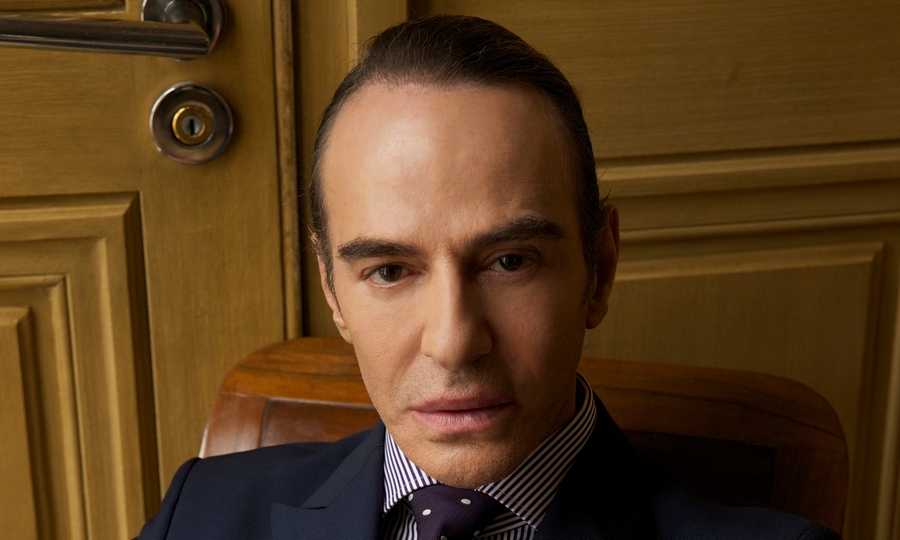 ---
This article titled "John Galliano at pains to stress his fun side but Paris scandal remains off-limits" was written by Jess Cartner-Morley Fashion editor, for The Guardian on Sunday 26th April 2015 22.18 UTC
In the wake of disgrace such as that which embroiled John Galliano there is first rehab, and then there is rehabilitation. Galliano, whose bizarre anti-semitic rant in a Paris bar in 2011 brought his drink and drug problems into the public eye, tackled the first with long stays at the Meadows clinic in Arizona.
The second, more subtle issue of his public rehabilitation was the focus of an appearance at the Vogue festival in London, the designer's first public speaking engagement since the scandal.
But those hoping for an Oprah-style confessional interview were sorely disappointed when interviewer and Vogue editor Alexandra Shulman's introduction made it clear that The Unpleasantness would not be mentioned.
Noting pointedly that Galliano had accepted an invitation "specifically to talk to us about couture", her otherwise fulsome account of Galliano's career made only glancing mention of how "he left Dior, as we all know, in 2011". The interview ranged from Galliano's student days at Central St Martins to the experience of designing Kate Moss's wedding dress and the financial future of haute couture in Paris, but one topic was unmistakably off the agenda.
At times, the elephant in the room threatened to turn Shulman's delicate questioning into farce. In answer to a question about how Galliano would define the essence of Maison Margiela, the label where he now works, the designer told the audience that "although one must respect the DNA of a house, I don't want to become a slave to it, which was what happened at Dior".
Fielding this oblique reference by Galliano to his troubles – he has blamed the intense pressure of the Dior job for his addiction and the behaviour that accompanied it – Shulman, gamely attempting to keep the conversation going while keeping to the pre-agreed guidelines, resorted to talking about "things that happen when you are working very intensely", a euphemism which might have baffled the uninitiated.
Galliano's unwillingness to be open and frank undoubtedly raises questions about his grip on the reality of his situation. And yet the most striking aspect of the hour-long talk was the revelation that Galliano, who in his Dior pomp embodied fashion at its most fantastical, has in his newly sober incarnation a clear commercial vision for the future of the avant-garde Margiela label.
He has identified the interior lining of clothes as the essence of what will define Margiela under his watch. "I want the idea of lining to be like Dior's jacket, or Chanel's camellia," he said, and went on to explain how lining could exemplify the core values of Margiela, a house founded on invisibility, on the unexpected, on the unshowy.
The crimson finale outfit from Galliano's recent Margiela collection was turned inside out on stage, to show how what appears as a silk dress is in fact a man's coat turned inside, the silk lining cut and showily draped, the original features hidden away. "I want to establish this in people's psyches, so that they will recognise Margiela from 50 metres away," he said. He showed on stage another coat on which flamboyant frilled cuffs at the wrists are attached not to the sleeves, but to the pockets, so that in repose the sleeves are theatrical but when the wearer takes her hands out of the pockets, "it's very practical, just a simple slim sleeve so that you can go about your day".
Galliano made repeated references to differences between his life and lifestyle now and in the past. He alluded to feeling more content, saying that "I follow a programme, and that helps me" and laughed that "in the past people would say 'Listen to your heart, John!' and I would say, 'it's not talking to me'." Fittings, he said, now begin at 9am "rather than at a quarter to midnight."
He said that while he had been "obsessed" with catwalk extravaganzas earlier in his career he has come to believe that "a little bit of theatre goes a long way". Shulman revealed that Galliano had intended to wear on stage the white lab coat which is the uniform of the Margiela house, before she had suggested otherwise. Instead, he wore a charcoal double-breasted suit with a silver pinstripe, white shirt and pale silk tie – but sang the praises of the white coat, which he wears to work every day.
"What's marvellous is that it means everyone is treated the same, because at work you can't tell if they are a student or the CEO. And I find that you can concentrate on faces, and what people are saying."
His voice, which over the years swung all the way from his original south London sound to a lisping, parodically upper-class tone has now settled somewhere around the middle: a calm, crisp received-pronunciation accent in which the old Peckham vowels are audible only when, joking or making an aside, he lets his guard down.
Galliano was on a mission to remind the London fashion world one of the reasons why it fell in love with him in the first place: because he was fun. He reeled off anecdotes about Kate Moss ("an incredible person and an amazing friend – can you imagine any other bride who would ask someone just out of rehab to do their dress?") and revealed that his first ever customer was Diana Ross, who bought a coat from Les Incroyables, the graduate collection which was bought by Browns boutique on South Molton Street in 1984.
When asked which period of history he would choose to time-travel to, he chose the French Revolution. "Not for the gory bits," he assured the audience, "but just for the swag."
guardian.co.uk © Guardian News & Media Limited 2010
Published via the Guardian News Feed plugin for WordPress.