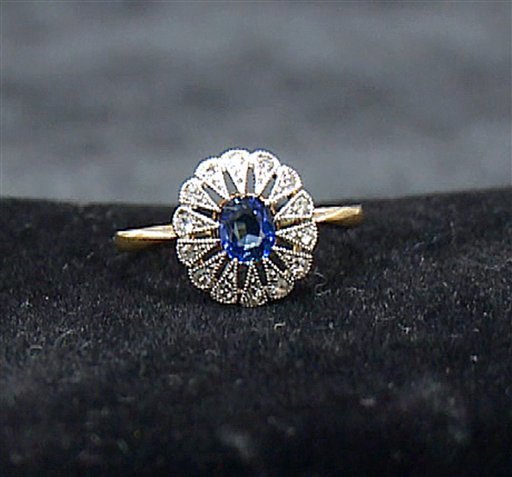 A mini-exhibit with jewelry recovered from the wreckage of the Titanic opened its doors in north Atlanta to offer a glimpse on the Edwardian Period's jewelry: diamond and sapphire rings, brooches, necklaces, cuff links and a pocket watch. The treasure comes from a single purser's bag found during a 1987 research and recovery mission. Commemorating the 100th anniversary of the sinking of the Titanic on April 15, 1912, is the first time the majority of the collection has been available to the public.
As part of a three-city tour, Jewels of Titanic, presented by "Titanic: The Artifact Exhibition" and "Titanic The Experience", features diamonds, sapphires, pearls and gold jewelry that once belonged to some of Titanic's wealthiest passengers.
"Going down two and a half miles below the ocean, recovering a bag, bringing it back up and opening it and finding … jewelry," said Alexandra Klingelhofer, vice president of collections for RMS Titanic. "We're able to give them a glimpse of how it must have been to have opened that for the first time and to see, together, the beautiful jewelry of the Edwardian Period."
After a two-month exhibit at Premier's display gallery at the Atlantic Station development, the Titanic jewels will travel to Orlando, Fla., and Las Vegas.
On April 15, 1912, Titanic, the world's largest ship, sank after colliding with an iceberg, claiming more than 1,500 lives and shaking the world's confidence in the infallibility of modern technology.