Jaquet Droz pays its own homage to dance through the work of Stéphanie Barba.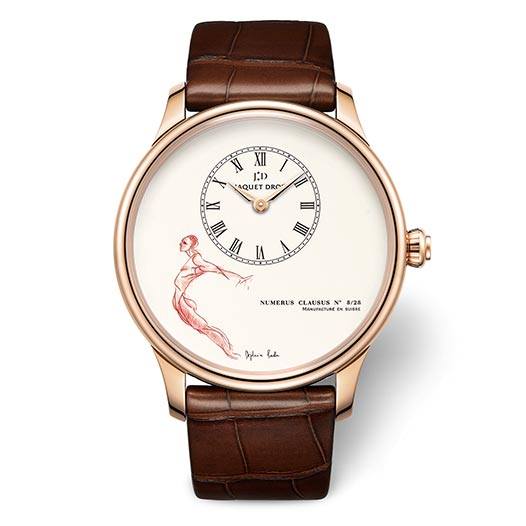 Jaquet Droz watch manufacture has teamed up with Béjart Ballet Lausanne and watercolorist Stéphanie Barba to unveil its dance-inspired timepieces. Jaquet Droz and the Béjart Ballet Lausanne became inseparable partners in 2013. The watchmaking firm is part of the life of the company, supporting its work and sharing its values of rigor, technical mastery and a futuristic vision of its oeuvre.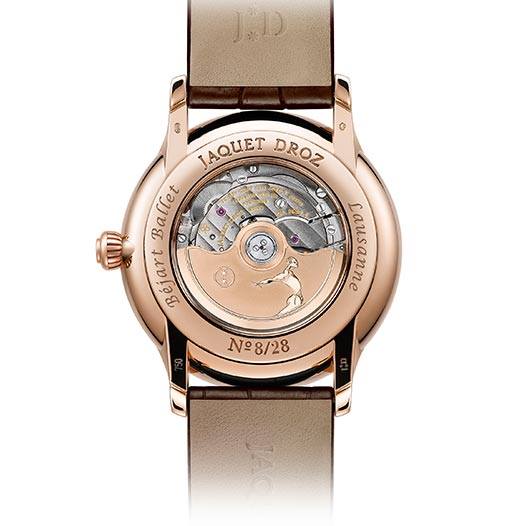 Jaquet Droz unveiled its first collection dedicated to the art of dance and confirmed also the collaboration with the Béjart Ballet Lausanne in Tokyo to mark the 150th
anniversary of the first trade and friendship agreement between Switzerland and Japan. The Béjart Ballet Lausanne company presented a new performance of Maurice Béjart's 1964 ballet set to Beethoven's 9th symphony, while Jaquet Droz revealed two new versions of the Petite Heure Minute watch. Both pieces feature Stéphanie Barba's drawings which were painted by hand.
To give Stéphanie Barba's drawings (featured in the video above) full expression, Jaquet Droz chose the dial of the Petite Heure Minute. The watercolorist presented a portfolio of twenty sketches inspired by The Rite of Spring. Jaquet Droz artisans selected two.
First, "The Vulture," a magnificent opening of the dancer's body and one of the movements most characteristic of Béjart's choreography: "It takes us back to the beginning of time; Stravinsky's music is like the sound of a relentlessly pounding hammer – primitive, threatening, troubling and heavy."
Then, "The Chief," a sketch in red chalk taken from the moment in the ballet when two men fight to rule the tribe. "Rather like a conflict between rutting stags. The music soars, clashes, falls, resumes, concluding triumphantly when the winner becomes the new chief."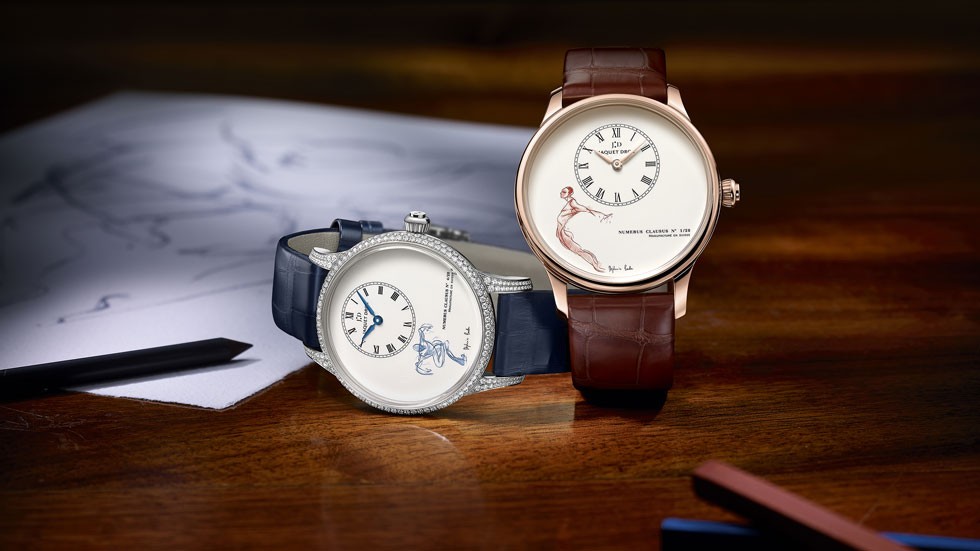 The timepiece featuring the Vulture is available in white gold with a 39 mm diameter and diamond-set lugs and case, together with a blue alligator strap. The 43 mm version in red gold with a brown crocodile leather strap shows the red-chalk sketch of the Chief and will appeal to those who harbor the soul of a leader. The drawings are painted by hand on the enamel dials and engraved on the oscillating weights. The collection is limited to 28 pieces.