Mercedes-Benz "On the Road" Picnic Menu Inspired by the SL Roadster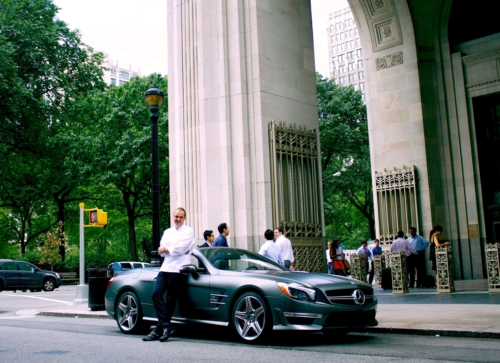 Given the interest in high-class culinary experiences amongst Mercedes-Benz drivers, Mercedes-Benz and James Beard Award-winning Chef Daniel Humm of Eleven Madison Park and the NoMad has created "On the Road" picnic menu, an initiative that continues to connect a passion for food with driving enthusiasts.
Chef Humm is showcasing a sampling of the menu at the annual James Beard Foundation's (JBF) Chefs & Champagne event in the Hamptons on July 21, 2012.
Chef Humm's innovative and refined menu incorporates the best of the season – themed to complement the picturesque outdoor setting in the Hamptons. The five-course menu includes: Strawberry Gazpacho with Guanciale and Basil; Heirloom Tomatoes with Mozzarella and Provençal Granola; Seared Scallops with Minestrone and Summer Beans; Squab with Dehydrated Blueberries and Smoked Corn and Rhubarb Tart with Coconut Oregano Foam and Brown Sugar Crumble.
Alongside the culinary offerings at Chefs & Champagne, Mercedes-Benz is displaying a selection of its vehicles including the inspiration for this year's "On the Road" menu, the sixth generation 2013 SL. The 2013 SL has an all-new lightweight aluminum body for better fuel economy and performance including new 4.6-liter bi-turboV8 engine that generates 429 horsepower.
Chefs & Champagne New York is the James Beard Foundation's annual summer tasting party, featuring flowing Champagne Nicolas Feuillatte, the wines of Wolffer Estate Vineyard, Stella Artois, and culinary offerings from more than 35 fine chefs, many from JBF Award–winning restaurants. This summer the James Beard Foundation celebrates Emmy Award–winning television personality and author of In My Kitchen, JBF Award Winner Ted Allen, and the judges of Food Network's Chopped: JBF Award Winners Maneet Chauhan, Scott Conant, Amanda Freitag, Alex Guarnaschelli, Marc Murphy, Marcus Samuelsson, Aaron Sanchez, Chris Santos, and Geoffrey Zakarian.