Jaeger-LeCoulture Atmos du Millenaire honors Queen Elizabeth II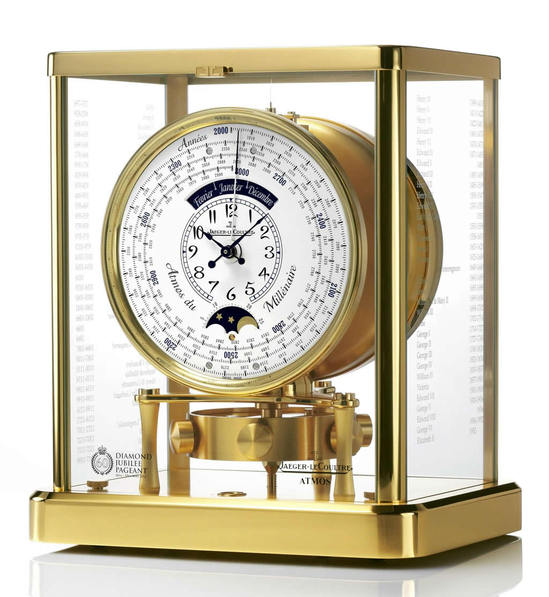 Jaeger-LeCoultre, the official time keeper of Her Majesty Queen Elizabeth II, celebrated the Diamond Jubilee with a celectial machine that goes beyond the standard conception of time. Jaeger-LeCoulture Atmos du Millénaire clock with quasi-perpetual movement measures out the years one by one until 3000, displaying the hours, months and perpetual moon phase. The unique limited edition of 3 pieces has engraved the Royal Lineage.
Atmos is the brand name of a mechanical clock manufactured by Jaeger-LeCoultre which does not need to be wound manually. It gets the energy it needs to run from temperature and atmospheric pressure changes in the environment, and can run for years (3821 years) without human intervention.
Its power source is an internal hermetically sealed capsule containing a mixture of gaseous and liquid ethyl chloride, which expands into an expansion chamber as the temperature rises, compressing a spiral spring; with a fall in temperature the gas condenses and the spring slackens. This motion constantly winds the mainspring. A temperature variation of only one degree in the range between 15 and 30 degrees Celsius, or a pressure variation of 3 mmHg, is sufficient for two days' operation.