"It's Berlin and London for core. But it's Istanbul for opportunity."
Posting a positive outlook, Istanbul's real estate ranked fourth in Europe, according to Emerging Trends in Real Estate Europe 2013 report compiled by Pricewaterhousecoopers (PwC) and the Urban Land Institute (ULI). "Emerging Trends in Europe" has analysed the real estate markets in 27 major European cities and ranked them according to their investment prospects, as indicated by respondents in this year's survey.
"As the survey's rankings of cities' investment prospects reveal, markets such as Munich and Berlin have overtaken 'non-core' locations such as Istanbul, a two-time winner in recent years," said the Emerging Trends in Real Estate Europe 2013 report.
The top five real estate European markets was dominated by German cities. Munich ranked first, followed by Berlin and London. Fifth-placed Hamburg followed Istanbul.
The Turkish city of Istanbul was ranked first in the previous two Real Estate Emerging Trends Europe reports, and is another top pick this year. It is Istanbul's exciting economic and demographic potential that keeps it popular with interviewees. With half of its 75 million people under the age of 29, Turkey's demography is hard to ignore, and its economic growth rivals China's, says the research.
As a result, Istanbul and its real estate market is changing fast. Auction house Sotheby's has set up shop there, one of a band of international luxury names keen for a foothold as incomes rise. Global companies, luxury brands, as well as newcomers from banking and insurance, are establishing bases, drawn by the proximity to cities in Russia and the Middle East. Strong demand for prime retail space keeps the city centre thriving.
Recent changes have eased restrictions on foreign ownership of Turkish real estate, as the government seeks to court international capital and transform Istanbul into a regional financial centre. GYODER, Turkey's Association of Real Estate Investment Companies, estimates the change will boost investment in real estate by $5 billion a year. But a fragmented market and lack of institutional-quality assets make deals hard to secure.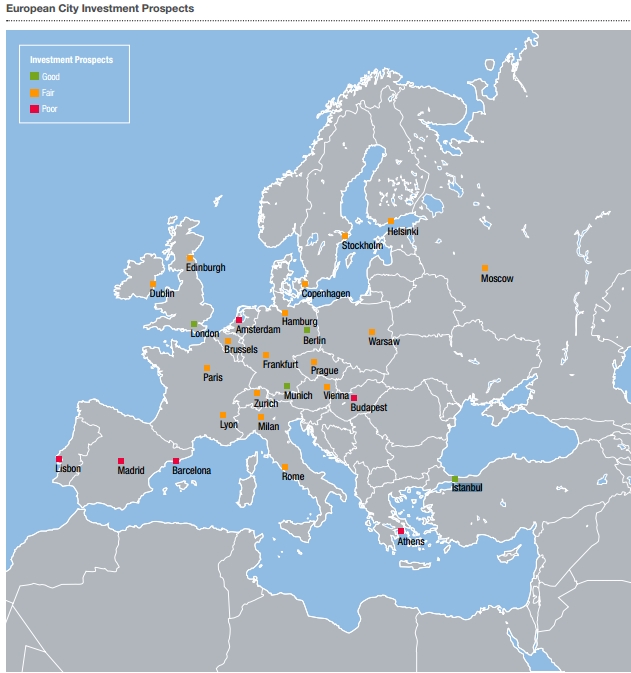 Though Istanbul has been rated more highly in past Emerging Trends Europe surveys, deal data show transactions are limited by comparison – €538 million for Istanbul to the third quarter of 2012 versus €3.3 billion for Moscow.
"Emerging Trends Europe respondents' optimism about 2013 does not mean they believe resolutions have been reached on how the industry's debt mountain will be refinanced, or that they have any clear idea about what might happen to the region's swaths of unloved, overgeared subprime property," said the authors of the study.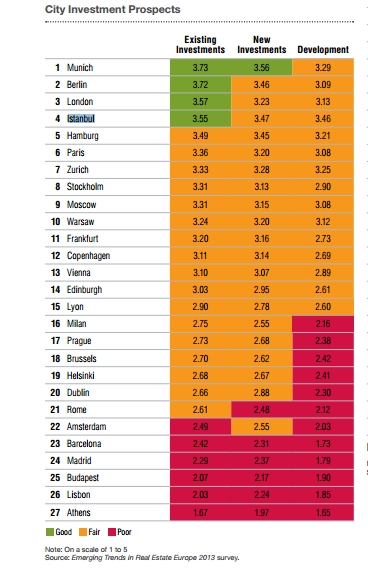 But Turkey is not all about Istambul. It's stunning coast line along 3 seas – Black Sea, Aegean and Mediterranean, it's cultural heritage from the ancient Odisee's heroes and Troy to the Romans and Greeks, it's wild mountains – Kackcar and Aladalar,not to mention Cappadocia or Pamukkale…A whole library is not enough to describe Turkey and its beauty. That's why ,if you have the founds it's time to invest in real estate there. Check this website with beautiful villas to sale in Turkey. Spotblue.com. Once you will be there , you will get in love with Turkey and wish never to come back.