Inaugural Art Basel Hong Kong

Firmly established as the art auction capital of Asia and the third-largest art auction center in the world, Hong Kong's art scene is thriving. In Asia's World City, art is pervasive and can be seen around every corner, whether in museums, luxury hotels, or Michelin-starred restaurants—art is an integral part of Hong Kong's cultural kaleidoscope.
From this year, Hong Kong or "the art mecca of Asia" is one of only three locations to host an international contemporary art fair under the esteemed Art Basel title. From May 23-26, the premiere edition of Art Basel Hong Kong 2013— described as the 'Olympics of the Art World'—will welcome art aficionados from around the globe to immerse in the best of Asian and Western art. Featuring 245 of the world's most influential galleries across 35 territories – half of which are from the Asia-Pacific region alone – the debut Hong Kong edition promises to deliver a dynamic amalgamation of East meets West found only in Asia's World City. The inaugural show will be presented in four separate show sectors: Galleries, Insights, Discoveries and Encounters, and will also feature extensive opportunities for cultural enlightenment
"…Hong Kong is positioned now more than ever to become the next global art powerhouse," said Bill Flora , U.S. Director of Hong Kong Tourism Board. "With a wide array of world-class art museums, galleries and performance venues, Hong Kong boasts a cultural landscape unlike any other city."
" Art Basel in Hong Kong is a landmark for the city," said Pascal and Sylvie de Sarthe, Co-founders of de Sarthe Gallery. "At the doorstep of the fastest rising art market in the world, this high quality international art fair is now on every art aficionado's agenda."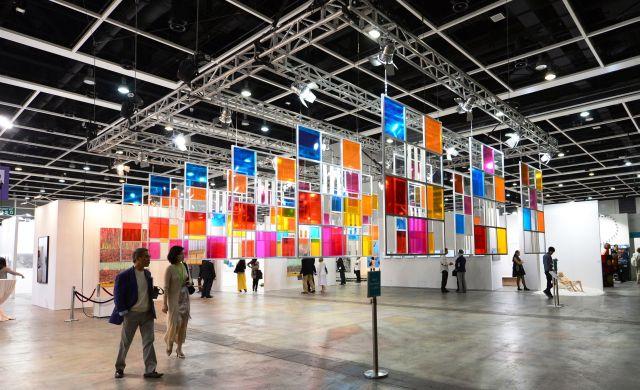 The newest Art Basel in Hong Kong will feature a special repertoire of museum-quality paintings, drawing, sculptures, installations, photographs and more from over 2,000 established and emerging artists from Asia and beyond.
As the world's leading modern and contemporary art show, Art Basel brings to Hong Kong 43 years of prestigious history and access to the international art world, providing all the more incentive for esteemed collectors, curators and art world professionals to look to Hong Kong to launch their commercial expansions, says the organizers.
Hong Kong's contemporary art scene continues to flourish with the opening of numerous high-profile international galleries and world-class art fairs—lending an outstanding platform for established and emerging artists alike to showcase their art in a critical market and further elevate their international profile. The announcement of Art Basel 's Hong Kong edition made in 2011 has acted as a seminal moment internationally for the cultural development of the city and inspired the arrival of ten new galleries, including Sotheby's newest Hong Kong space in May 2012 and New York dealers, Lehmann Maupin Gallery in March 2013.