Handles Like a Flying Jet Ski: Zapata Flyride enables you to fly and slide on the water.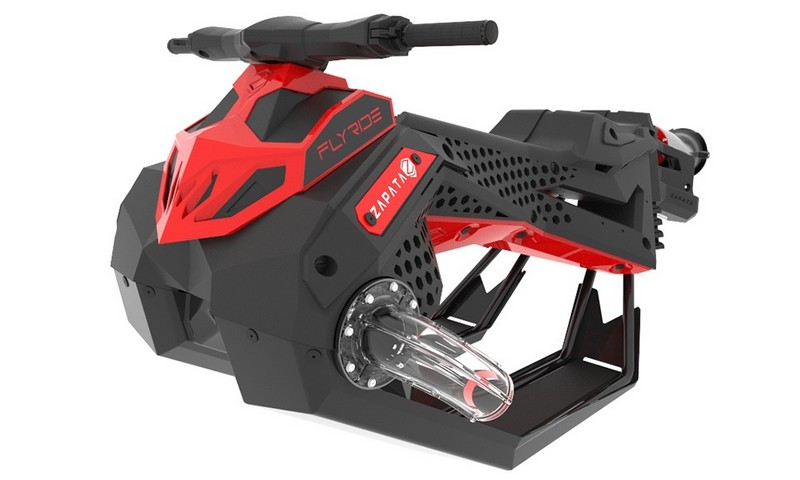 One look at the Zapata Flyride and there is not much mystery to how it operates. It's similar to a personal watercraft, except it has added controlls for going up and down. Turn the handlebars and you'll bank left and right just as you would on a bike, motorcycle or jet ski.
The Zapata Flyride is the latest crazy invention created by Frenchman Franky Zapata, the brilliant inventor of Flyboard and owner of Zapada – a leader in developing and manufacturing hydro- and jet-powered technologies and products. At the latest Paris Boat Show, Zapata presented Flyride – a toy hydro-propelled by the turbine of a scooter via a long hose and two side nozzles on the front.
Using Flyride is trully easier than riding a bike because it's doesn't require the rider to maintain balance. Anyone can do it. Internal sensors and electronics make continuous micro-adjustments to keep the Flyride level and steady, even when riders shift their weight.
Most hydroflyers require users to float in open water to safely take off and operate. With Flyride, users can choose the convenience to launch or land onto a beach or ocean level dock. An assisted take-off function gets any rider up in the air in seconds.
Hydroflying no longer has to be a solo experience. Flyride harnesses the power of your personal watercraft to support up to 200 kg / 440  lb of weight, using a 300 HP PWC. You can take turns driving, or just hang on. Flyride brings shared riding to hydroflight. The Flyride is wireless ready and comes with a Zapata Wireless EMK Transmitter built into its handlebars. With an EMK Brain (sold separately) installed on a PWC, the Flyride remotely manages the throttle and can even start and stop the engine.
Accommodating two passengers, the Flyride is controlled directly from the handlebars or via an optional wireless remote control. The new water toy is equipped with advanced electronic assistance, such as a gyro stabilization system. The bike also offers several modes of "water fun" and, for the more adventurous, it can trigger even a double twist with a simple click of a button.
Extreme is still in Zapata's DNA and Flyride packs a super move that will take you for a spin. Introducing automated rolls at the hit of a button. When a flyer is at the required height, an automated barrel roll stunt maneuvre becomes available. Hit it and hang on!