Air China is joining forces with the Ritz-Carlton Beijing to develop a brand new in-flight food menu. Barolo, the Italian restaurant at the Ritz-Carlton Beijing, is named after the famed winemaking region in northern Italy. Here, the focus is on the perfect pairing of delicious food and delectable wines, with head chef Amedeo Ferri creating a distinctive fine dining experience thanks to his sensitivity to ingredients and flavours and a quest for innovation. These qualities have all come to the fore in the development of Air China's new in-flight gourmet options.
The biggest obstacle was that, due to the nature of the industry, airline catering is subject to a whole host of requirements and restrictions in terms of production, storage and transportation. Spiced prawn salad, tomato and basil soup, braised beef tenderloin with prosciutto, and panna cotta for dessert. Air China wanted these Italian classics to be part of its new gourmet meal range, but in order to take them from the restaurant to the clouds, it had to enlist the help of a specialist airline catering company. This is where Beijing Air Catering stepped in.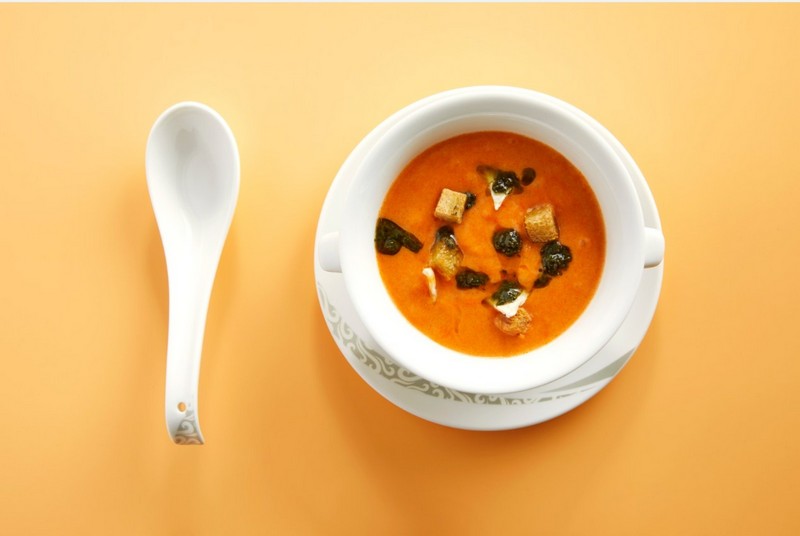 Bearing the cultural connotations behind culinary creativity in mind, Air China worked closely with head chefs from Beijing Air Catering to develop these dishes, before teaming up with chef Ferri to discuss ingredient selection and flavours. From all of this groundwork, Air China was finally able to craft a delicious menu that meets all airline catering standards and is suitable for mass production without compromising on quality or taste. And this menu will soon be available for all Air China first class passengers on China to North America routes.
Air China has been reviewing and restructuring its food offerings on more than 40 domestic and international routes since early 2016, rolling out localised dining options that best suit the dietary preferences of passengers from different parts of the world. On its Shanghai routes Air China has introduced six new international meals for gourmet dining in the clouds, on its German routes there is quality caviar alongside six nutritious, seasonal Western meals so passengers can "taste the seasons from their seat", whereas Air China has rolled out some exquisite typical Japanese dishes for its Japan routes. And travelling over the holidays is even more special thanks to hand-made multicoloured dumplings for Chinese New Year, sticky rice parcels for the Dragon Boar Festival, and children's gift boxes for Children's Day.
The new gourmet Italian dining option will be available in all first class cabins on routes between China and North America from 1st August.