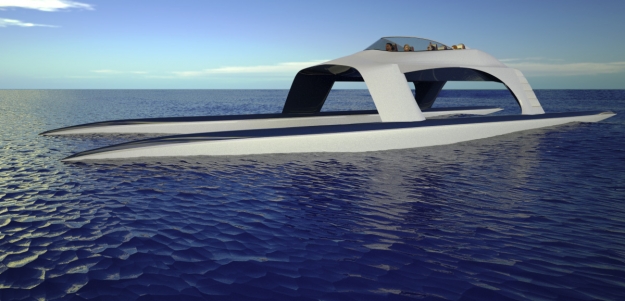 Gliders are for those who wish to go further, faster, more comfortably and efficiently in unprecedented style, say the UK-based designers of the new Glider Yachts zipping over rough seas at 70mph. Innovation news are not so often in the yachting industry, so the launch of a game changer is an important event. This innovative vessel moves with a smooth, quiet continuous motion. The shallow draft of the boat offers access out of reach bays and beach landings. Glider "pierces through waves and glides over them rather than slam from wave to wave like conventional sports yachts."
To see the SS18 prototype you must visit the exclusive Monaco Yacht Show on September 2015.
"Glider Yachts is bringing a new dimension in high speed luxury to the superyacht world," explained Robert McCall, Chief Designer Managing Director of Glider Yachts.
"Seven years in the making, our SS18 opens up unprecedented cruising opportunities making a range of destinations within easy reach – a trip from Dubai to Abu Dhabi could be done in just over 40 minutes and Monaco to Saint Tropez can be reached in under 50 minutes. "The SS18 is truly a game changer.
Perfect for those with a fast-paced and demanding lifestyle, you will have easy access to safe controllable power capable of reaching 56+knots at all times.
Crafted in the UK using the latest advanced marine composites and finest materials, the SS incorporates a bespoke, luxurious and spacious open cockpit for Pilot and 4 guests.
For true exhilaration seekers, why not unleash the 3400bhp of the Hyper Sports version with sub 3.5 seconds 0-60 acceleration and top speed over 96+knots.