Cypris Tourbillon sous Trois Ponts d'Or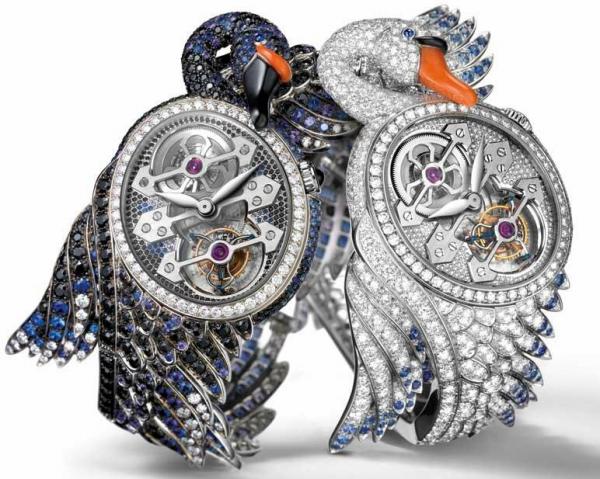 Girard-Perregaux Tourbillon with three gold Bridges, a a hallmark of the Girard-Perregaux Manufacture, is now dressed in diamonds, sapphires, and black spinels. The new exclusive swan outfit marks the partnership with Boucheron jewelry house.
Cypris Tourbillon sous Trois Ponts d'Or watch is a true work of art that symbolizes the love and fidelity. The movement's bridges became the bird's heartbeat. Its head set with sapphires, spinels and diamonds and its beak cut in natural stone – coral and onyx – curl around the case, adjusting perfectly to the jeweled ensemble. Each watch individually required more than 10 months to create and over 1300 hours' work. The Tourbillon with Three Gold Bridges is a creation of the master watchmaker Girard-Perregaux.
Cypris Tourbillon Black Plumage Watch
Cypris Tourbillon with three gold bridges in white gold, plumage paved with black spinels, diamonds, blue and purple sapphires, bird's beak set with onyx and coral. Three Gold Bridges Tourbillon of the Girard-Perregaux Manufacture.
Cypris Tourbillon White Plumage
Cypris Tourbillon with three gold Bridges in white gold, plumage paved with diamonds and blue sapphires, bird's beak set with coral and onyx. Three Gold Bridges Tourbillon of the Girard- Perregaux Manufacture