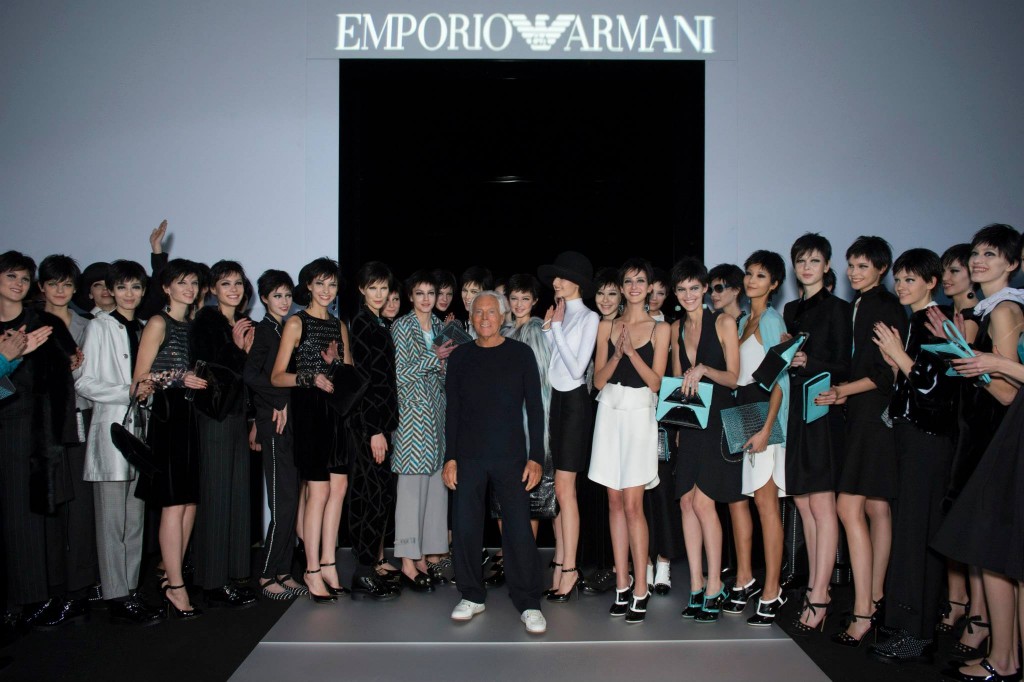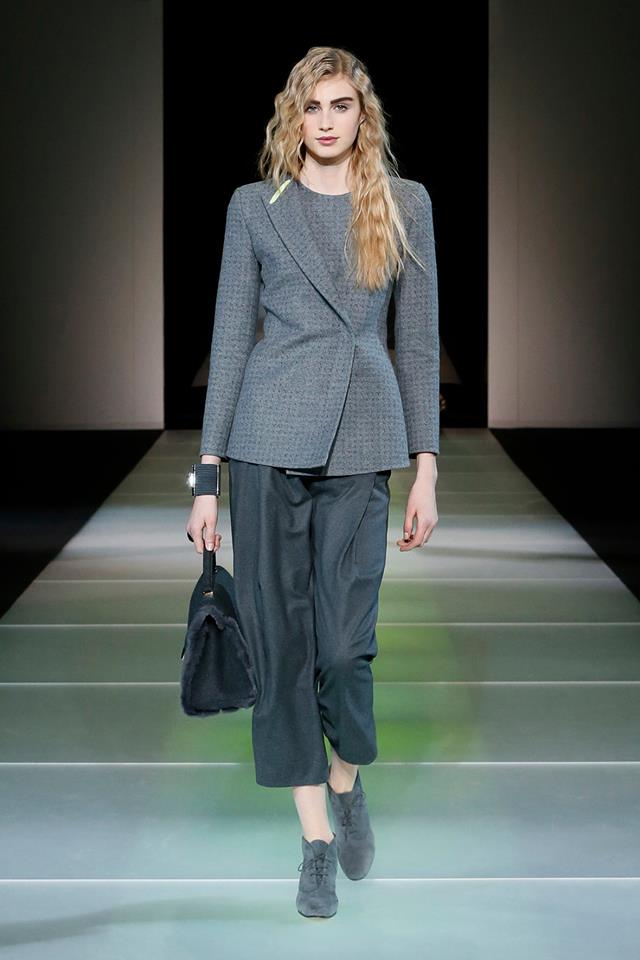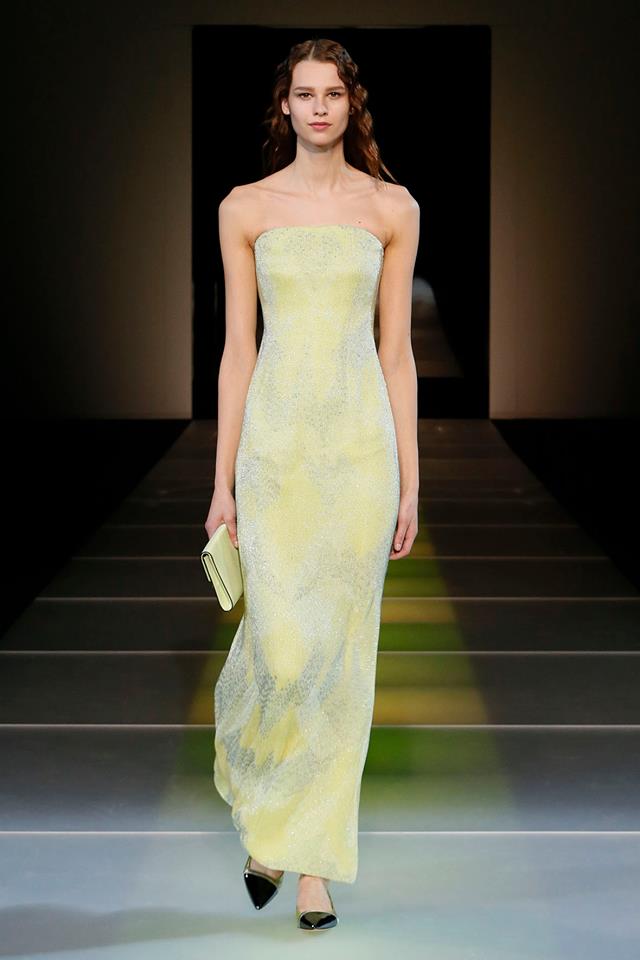 ---
This article titled "Giorgio Armani's Milan fashion week collection: spare and consistent" was written by Imogen Fox, for The Guardian on Monday 24th February 2014 17.14 UTC
Giorgio Armani, who showed his mainline collection on Monday, entitled Fade to Grey, is the unofficial headmaster of Milan fashion week. Even those who might criticise his collections for their lack of kapow! trends – which the designer famously eschews as mere marketing tricks – would find it hard to argue against the 79-year-old billionaire as the elder statesman of Italian fashion.
It is a role which extends beyond the confines of the catwalk. This weekend, when Matteo Renzi was sworn in as the youngest ever Italian prime minister, there was a flurry of criticism surrounding the wardrobes of the eight women in his cabinet. Rumours circulated that there was a call for Armani to come to the sartorial rescue.
For his part, Armani has called on the new government to act when it comes to protecting the reputation of Italian fashion. After his Emporio Armani show earlier in the week he told reporters that he expected "real attention" from the new government, not just talk. In a move that cemented his status late last year, he committed himself to an attempt to restore the vitality of Italian fashion by joining the industry's governing body, the Italian Chamber of Fashion – something he had previously refused to do unless all Italian fashion designers agreed to show their collections on home territory.
Meanwhile, on the catwalk, Mr Armani, as he is known to his staff, had a strict timetable. In previous seasons he has faced criticism for his long, meandering collections, but Monday's show was spare and consistent and all the better for it. As a result, the message was clear: next winter is all about grey flannel tailoring, accented with a muted lime green.
The point was underscored when Armani did his idiosyncratic trick of sending two models down the catwalk together, both in cropped trousers and gently structured jackets – one black and one pale lime. The collection was at its best when the grey flannel tailoring was kept clean. An easy grey trench coat with contrast storm flap was elegant.
The cropped trousers, which were pleated at the front to soften the look, felt most modern when worn with stompy black boots – a shape that is gaining momentum on and off the catwalk in Milan this week.
Consistency pays off financially at Armani. The results of this long-term strategy have made him the sole owner of a nearly bn business, with a vast personal fortune, nine homes, and a hotel in Milan shaped like a giant letter A – something that would be apparent only to clients who hover above it in a helicopter. A fair proportion of this eye-watering fortune was made during the recession as the Armani brand expanded into China.
The evening wear section, which brought Milan fashion week to a close, continued the Armani agenda, which the designer has previously christened "non-ostentatious elegance". Pared-back floor-length grey dresses had one shoulder and a smattering of embroidery.
One standout dress had spaghetti straps and was split to reveal a lime green lining as the model walked. It was tasteful and would work well on the red carpet should an actor decide to wear a similar version at the Oscars this weekend – a likely scenario, though not a done deal. Although the brand has a close connection to the film industry, it does not have red carpet contracts with stars, so to choose Armani is a real choice, not a stipulation.
guardian.co.uk © Guardian News & Media Limited 2010
Published via the Guardian News Feed plugin for WordPress.