4TH EDITION  OF GENEVA TIME EXHIBITION TO BE HELD AT BFM – A PRESTIGIOUS VENUE IN CENTRAL GENEVA
Geneva Time Exhibition, now in its fourth year, is relocating to the very heart of Geneva… to a new venue that offers the perfect location for both exhibitors and visitors: the Bâtiment des Forces Motrices. The move to the city centre will help the next Geneva Time Exhibition, to run Sunday 20 January through Thursday 24 January 2013, emphasize the event's Geneva roots and boost its international reputation still further
Buoyed by the success of the first three editions, Geneva Time Exhibition remains true to its raison d'être as a promotional platform for independent watchmakers. In 2013 the event will be moving up an extra gear, with a prestigious new venue ideally suited to showcasing an increasingly varied range of innovative watch brands. By blending watchmaking tradition and creative panache, GTE guarantees a breadth of choice that is sure to appeal to an increasing number of trade visitors and watch connoisseurs.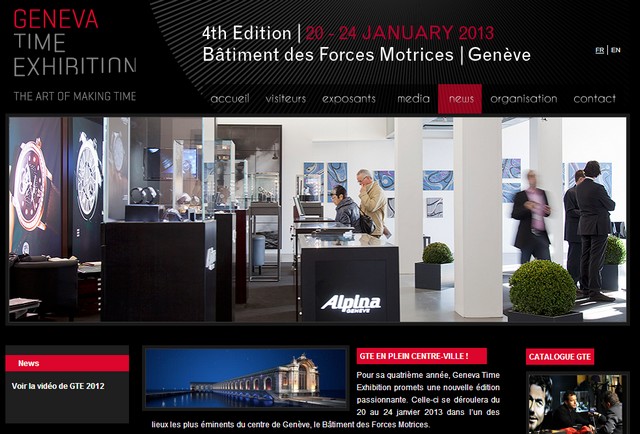 GTE 2013 will host around forty exhibitors, all keen to meet and talk with passionate watch aficionados – be they specialist professionals or savvy collectors on the look-out for the latest watchmaking sensations!
True to its vocation as a vehicle for culture and the art of watchmaking, GTE will again offer watch industry professionals the exclusive possibility to make contact with independent watchmakers, before opening its doors to the public on Thursday 24 January 2013.
Geneva Time Exhibition 2013 :
Dates: Sunday 20–Thursday 24 January 2013
Venue: Bâtiment des Forces Motrices (Place des Volontaires, Geneva Centre)
Open: Sunday 20 January–Wednesday 23 January 2013, 10am–7pm (trade only)
Thursday 24 January 2013, 10am–5pm (open to public)
www.geneva-time-exhibition.ch