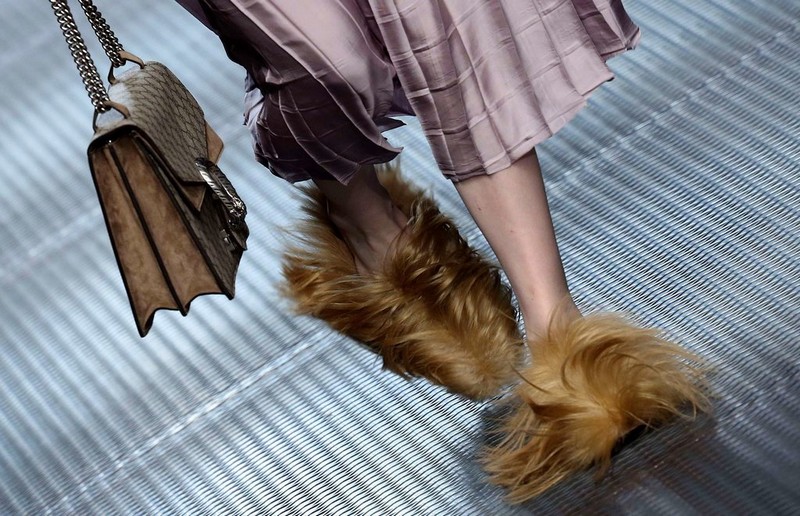 ---
This article titled "Fur, fluff and pom-poms put the shaggy into shoes" was written by Hannah Marriott, for The Guardian on Friday 31st July 2015 16.02 UTC
They have been compared to Norfolk terriers, the cast of Fraggle Rock and Andre Agassi's mullet, but the hair-balls everyone in fashion is talking about right now are, in fact, next season's most-wanted shoes – and they cost an eye-watering £1,230.
The guinea pig-like princetown slippers are the showpiece of Gucci's autumn/winter 2015 collection, the first from the brand's new creative director, Alessandro Michele. In the February showing of the collection, which also included subtly shaggy footwear – ghillie lace-ups decorated with pom-poms, clogs and loafers with tufts of fur escaping at the heel – Michele eschewed the Italian megabrand's trademark glitz in favour of geeky, Wes Anderson chic, and won rapturous applause from the fashion industry in the process.
"There is something ridiculous about a shoe that needs to be combed," says Susie Lau, of the fashion blog Style Bubble, "but there's been so much enthusiasm about what Michele is doing that the editors are eager to wear their support. I have no doubt the shoes will pop up in their various incarnations around fashion week come September. Although perhaps not in the rain."
Though Gucci is the most high-profile example, other designers are also encasing fashionable feet in fluff next season. At Margiela's autumn/winter show, models wore high heels that recalled Oscar the Grouch and Yogi Bear. There were Elmo-like court shoes at Dolce and Gabbana and fuzzy black sandals at Ferragamo, while a rash of pom-poms has popped up on shoes by Miu Miu and Sophia Webster, and across Jimmy Choo's entire 2016 cruise collection.
The fact that the fashion industry is finding new ways to use fur will disturb the many who are concerned about its use in fashion – and already, high-street retailers are offering faux takes, free of animal cruelty and at much less extortionate prices.
Asos's shoe department is a fluffy riot of pastel pom-poms, affixed to the toes of plimsolls and the straps of sandals. The head of accessories design, Aisling McKeefry, says the company's love affair with fake fluff began last autumn. "At the time, I was really obsessed with Grand Budapest Hotel and all things Wes Anderson," she says. "So we made a shoe called Say You Do in pink velvet with a pom-pom on the toe and it sold brilliantly. We realised we were on to something and tried pom-poms on more shoes and shapes, in strange unexpected places."
Asos sells sandals covered with strips of faux fur and faux fur-lined sliders. "There's one with a yellow T-bar – like the honey monster has landed on your foot – that I just can't imagine us doing nine months ago, but taste levels seem to move on so quickly. Some of the pom-poms that felt really out there to me last season now seem quite tame."
There has been a shift away from minimalism and the more classic footwear styles over the past few seasons; customers have more confidence to wear shoes with a sense of humour, or pieces which will become collectible items.
At luxury online retailer matchesfashion.com, Sophia Webster's pom-pom heels and the shearling lined clogs from Alvaro are "spearheading that kooky, eccentric trend that has emerged(this season), which the fluffy shoe is a key part of", says Cassie Smart, the company's footwear buyer.
Though autumn/winter 2015 offers the most widespread use of outlandish fluff on shoes yet, the trend's origins can be traced to the ever-influential Celine, which in 2013 showed fur-lined Birkenstock sandals and oversized bright yellow fluffy high heels that brought to mind Big Bird. Then, only the bravest dipped their toes into the trend; now the appeal has broadened, as minimalism wanes and the kind of cultivated eccentricity seen at Gucci becomes ever more mainstream. "Customers have more confidence to wear shoes with a sense of humour,"says Smart.
guardian.co.uk © Guardian News & Media Limited 2010
Published via the Guardian News Feed plugin for WordPress.