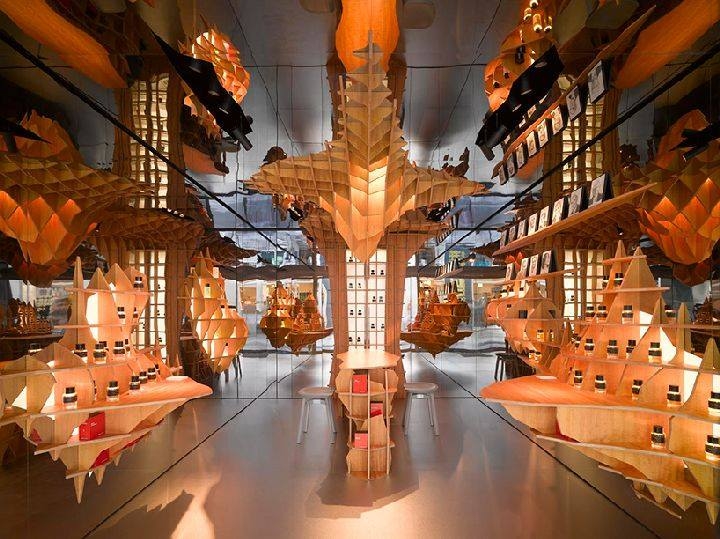 On the beauty retail scene, a new original store is a rarity. French luxury perfumer Frédéric Malle opens a 'hive' fragrance boutique in Paris at 13, Rue Des Francs Bourgeois, in Marais, the historic district in hosting many outstanding buildings of historic and architectural importance. To obtain "endless complexity and infinite reflections," architects Jakob + MacFarlane in collaboration with the mind behind niche fragrance house Editions de Parfums Frederic Malle used hidden shelves, table-tops, and mirrors. Featuring 3D plywood grid, Frédéric Malle's fourth boutique is a intricate system with flooring, walls, and ceiling, all clad with a mirrored surface.
"The result is a space to sit, gaze, speak and be heard."
"As someone who loves working with perfumers, like an editor at a publishing house, I immediately sensed – with the help of these great architects – that together we'd invent a new way to display our collections," explained Frédéric Malle.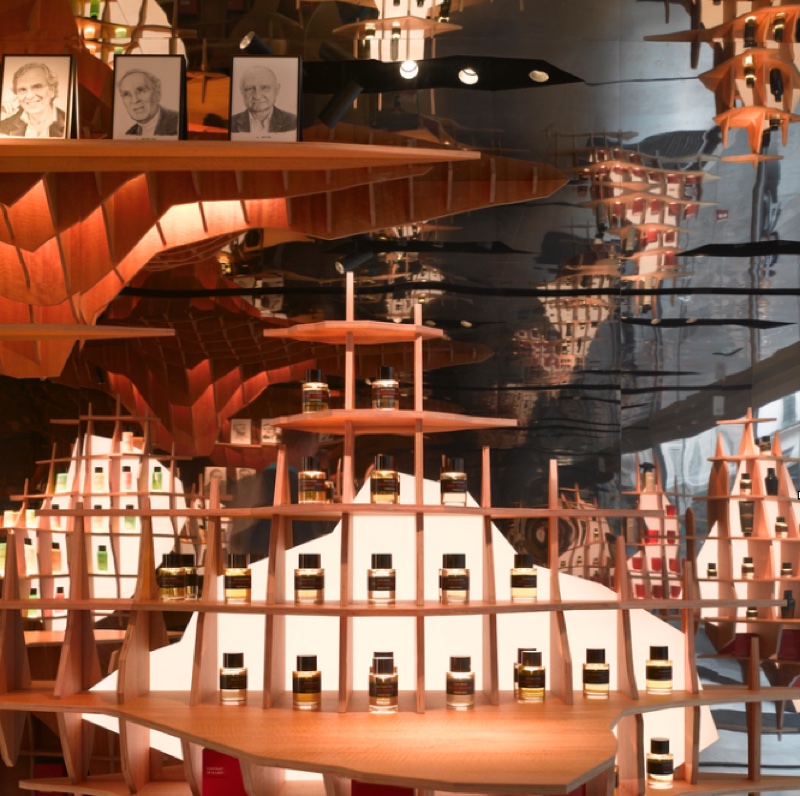 "Jakob + Macfarlane understood this perfectly. Their project envisioned a sort of box, slipped within the existing shell of a historic building in the Marais. Its interior resembles a carefully sculpted, three-dimensional grid, from which a series of mysterious islands — elements that become shelves, tables and refrigerated cabinets — emerge."
This month, Frédéric Malle announced its second-ever designer collaboration. A new perfume was created with fashion designer Alber Elbaz. Elbaz worked for the Paris fashion house Lanvin from 2001 until October 2015. The "Superstitious" perfume celebrates also the 'Officier de la Légion d'Honneur' title received recently by Elbaz.
Frédéric Malle introduced Editions de Parfums in 2000, a completely novel concept whereby the world's greatest noses composed exclusive, creative fragrances to be sold under their names. In an era in which most companies value intensely marketed brand names, Malle draws attention back to the product itself: namely perfume. Through a simple "back to basics" approach, Editions de Parfums is challenging all prevailing trends.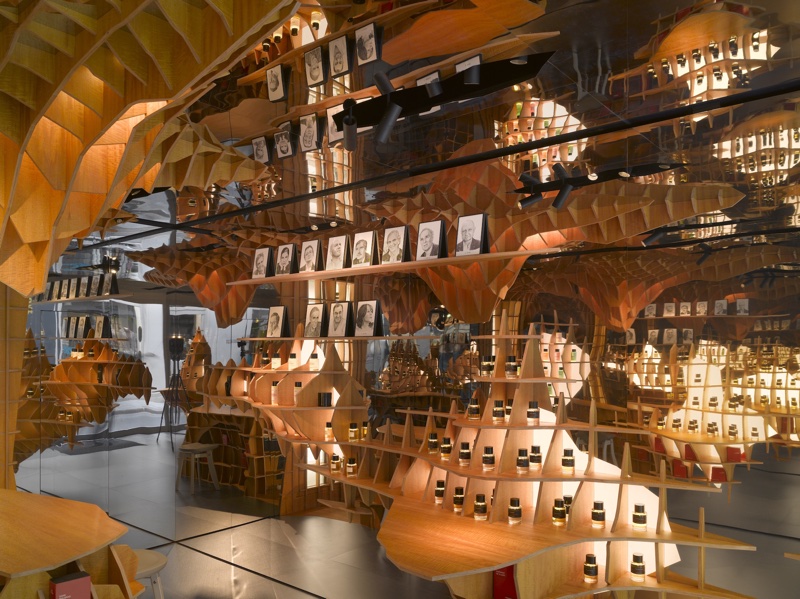 Frédéric Malle grew up immersed in the world of perfumery; his grandfather, Serge Heftler-Louiche, was most notably the founder of Parfums Christian Dior. Malle began his career in 1988 at Roure Bertrand Dupont, the prestigious perfume laboratory. Over the years, he acquired a deep knowledge of the raw materials used in the composition of perfumes, as well as a strong sense of olfactive balance. He is an "evaluator," the professional term that defines a specialist whose deep understanding of fragrance structure and accords enables him to critique a perfume's composition.