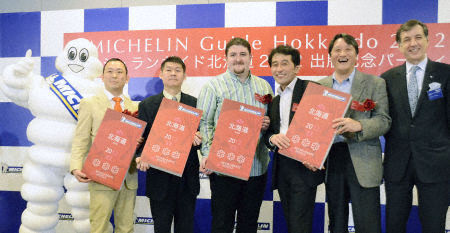 The inaugural Michelin Guide 2012 for Hokkaido, Japan's most northerly main island, has four restaurants that earned the coveted three stars.
The gastronomic guide lists 699 restaurants and hotels and marks the 5th anniversary since the very first Michelin Guide to Japan was released. Sapporo, the biggest city on the largely rural island of Hokkaido, boosts 3 of the winning restaurants, being declared the fifth-best city in Asia for food and wine by Tripadvisor Travellers' Choice, ahead of Tokyo and Osaka.
Michelin's first restaurant and hotel guide dedicated to Hokkaido awarded four stars to the sushi restaurants Nukumi and Sushi Tanabe, Moliere (French cuisine), and Michel Bras Toya Japan, also specialized in French dishes.
The first Michelin star was awarded in 1926, followed a few years later, by the one to three-star rating system introduced in the provinces in 1931 and in Paris in 1933. Ever since, the famous "Michelin stars" have been the Guide's claim to fame, recognized the world over as osynonymous with quality cuisine.
3 stars = Exceptional cuisine, worth a special journey. One always eats extremely well here, sometimes superbly.
2 stars = Excellent cooking, worth a detour
1 star = A very good restaurant in its category.
Stars reflect «what's on the plate and only what's on the plate.» is means they rate only the quality of the cuisine. They are awarded on the basis of 5 criteria. While the starred restaurants get the most media coverage, they represent barely 10% of the guides' selection. To have earned one or more stars means that a restaurant is one of the best not only in its country but also in the world.