The Signature Edition Super Snake is an extremely rare, very limited time offer of up to 50 Super Snakes today from the GT500's 2007-2014 model year run.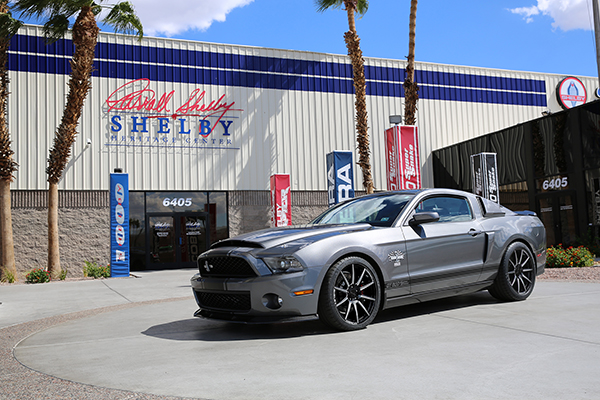 With unique styling and up to 850 HP, The Signature Edition Ford Shelby GT500 Super Snake are limited edition muscle cars featuring the most popular upgrades at a special price. Only 50 total coupe or convertible 2007-2014 model year Signature Edition Super Snakes will be built with orders accepted through Jan. 31, 2015, announced Shelby American.
"The Ford Shelby GT500 Super Snake has become one of the most exciting and desired cars in the world since we introduced it in 2007," said Joe Conway, Co-CEO of Carroll Shelby International and CEO of Shelby American.
"With production of the current generation GT500 ending, we wanted to commemorate the sunset of an important era. This Shelby truly changed the automotive landscape and inspired the performance competition that continues today. It's a car worthy of being honored with a very special limited edition Shelby. The package can only be ordered for a limited time, so ownership puts a person in a very elite club."
The Shelby GT500 Super Snake is a post-title program based on the 2007-2014 Ford Shelby GT500. The post-title package includes upgrades to the engine, suspension, brakes and cooling. The cars get a unique and stunning visual treatment, as well as interior upgrades.
To build a Signature Edition Super Snake, Shelby American is also integrating the most popular upgrades and added stunning visual touches to make them stand out from other Super Snakes. For the first time, the cars are available in the entire color palette offered by Ford Motor Company on the Shelby GT500. Customers can choose the stripe colors to be paired with the new forged Weld Shelby wheels for the first time for a 2007-2012 model year car.
A commemorative badge that honors Carroll Shelby's signature is featured prominently on the airbag cover. As an extra cost option, the "wide body" package can also be ordered for installation.
"Some of the most collectible cars built by Shelby American include the '427 Edition' Super Snake and '40th Anniversary' GT500 packages," said Neil Cummings, Co-CEO of Carroll Shelby International. "The Signature Edition GT500 Super Snake is the most exclusive version of the car we've ever offered."
In addition to receiving a very rare car, owners of the Signature Edition Ford Shelby GT500 Super Snake will enjoy a day of training at the track.