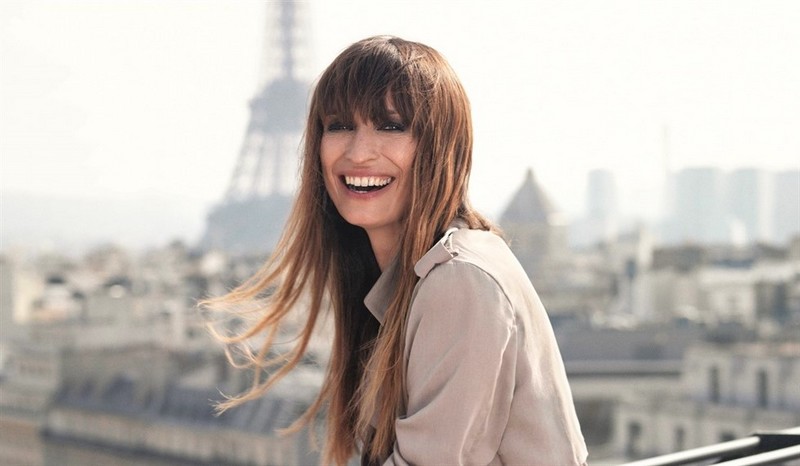 ---
This article titled "Etre Blank: French women on the new normcore" was written by Alice Pfeiffer, for theguardian.com on Wednesday 11th November 2015 17.42 UTC
Maroussia Rebecq is the founder of provocative Parisian fashion label, Andrea Crews, and famous for selling 3D moulds of her nude self and pioneering androgyny on the catwalk. Yet the most outrageous thing about her is the least visible: "My skin is a blank canvas. No piercing, no tattoo. My clothes change all the time but my skin doesn't belong to any epoch. Much punkier, non?"
Tattoos, like piercings, used to be a sign of counterculture – a complete and utter no-no in the Parisian workplace, the most mauvais of genres. But in recent years, they've become accepted by fashion and are now decidedly mainstream. From Cara Delevingne's tattooed back in the Chanel campaign, to Catherine McNeil on ultra-classical underwear brand Eres' ads, as Adeline Amiel-Donat – an ink-and-piercing-free PR in luxury based in Paris – says: "If you work in fashion, it is now more difficult to say you don't have a tattoo than explain why you do." She adds that tattoos have "evolved from a expression of difference, to a mark of hipster-ness to a sign of homogeneity".
And so, bizarre as it might sound, not having tattoos and piercings is now a bona fide trend within French fashion circles. It even has its very own, very Gallic name: etre blank (to be blank).
Perhaps it is this lack of radicalism in today's ultra-fashionable tats that leads women to give up on them altogether: model and Chanel muse Caroline de Maigret has no tattoos or piercings to be found and is proud etre blank – a lingo that stems from the tattoo world, and the opposite of "being blue" or entirely covered. "I feel there is something more radical in being either totally covered or not at all," she says, adding: "I don't even have my ears pierced!"
Equally populist in Paris are piercings – see Givenchy's elaborate septum ornaments or Daria Werbowy's nose ring for Isabel Marant's campaigns. So it's hardly surprising that a counter trend is kicking in, as an increasing number of Parisiennes are choosing to keep their bodies unmarked and unpierced.
"France has the power to turn the most rebellious expression into a bourgeois consumer good," says Laurence Vely, one of the directors of independent fashion magazine Antidote and also unadorned. "England created punk, France created its haute couture version. Now that every Vogue editor has a tattoo, à la Kate Moss, it has practically become the next step after buying a faux-used, pricey designer biker jacket." To many women, the kind of tattoos and piercings you see in Paris follow the same classical rules as French style: discreet, elegant, pricey and impeccably executed, miles away from a teenage mistake or a radical, more overwhelming tattooed back.
As a rule, Parisian women like to know their style can stand the test of time, and transcend trends. Unlike teenagers in the UK or US, we don't dye our hair green, we start dressing like our mothers, and they always dress a tiny bit like us (think Charlotte Gainsbourg and her teenage daughter looking identical in Comptoirs des Cotonniers ads). Trends have seldom fit into the French way of dressing until recently, given that by their nature they pass rapidly and make one feel passé or old in six months, and tattoos, although eternal, clearly belong to a certain decade (a Chinese sign in 2000s vs an anchor in 2010) and 'time' date your body. By rejecting them, the French have regained that very traditionally French concept:: to reach a level of femininity that is totally personal and ageless.
To Valentine Petry, a beauty editor and journalist who contributes to Elle France, this is also a result of consumer culture: "If you can be accepted everywhere with it, probably remove it a few years down the line, it is often no more than a pretty ornament, devoid of real meaning," she says, suggesting that French women are becoming increasingly aware and critical of the impact of consumer society and trends.
Unsurprisingly, the beauty industry is also aligned with this trend: in Paris, eyebrows are left unplucked, eyes are au naturel and hair is kept artfully unbrushed – an effortless look heralded by de Maigret and French model Lou Doillon, to name a few.
This desire to avoid passing trends and go back to essentials is also reflected in France's current passion for pared-down silhouettes – a form of Gallic take on normcore. A good example can be found in one of autumn's biggest fashion collaborations, a minimalist collaboration between Uniqlo and Lemaire. Although the latter is practically unknown to a mainstream audience, the unfussy, androgynous lines and classical shades had people queuing from dawn for several blocks when the collection went on sale – and was sold out within days.
Editor and fashion maven Carine Roitfeld, once deemed the queen of porno chic, also recently launched a collaboration with the Japanese retailer – consisting of simple pencil skirts and trenchcoats. And, in an interview preceding the launch, spoke eloquently "of the importance of establishing a solid, classical wardrobe with simple twists".
This trend is also apparent in the success of women's-suit brand Pallas; or in the refined leisurewear from up-and-coming designer Etienne Deroeux: Allegria Torrassa, creative director for Pallas, spoke of a desire to "create a product that transcends trends, genders and generations". This coming from the woman who put Charlotte Rampling in an ultra-classical, timeless tuxedo.
In today's hyperactive, ever-accelerating fashion scene, France once again seems eager to return to a form of ageless elegance, to unadorned skin and equally prim garments – in other words, sticking out by being normal. Snobisme or réalisme?
guardian.co.uk © Guardian News & Media Limited 2010
Published via the Guardian News Feed plugin for WordPress.