Valentine's Dinner on Concorde
British Airways Launch Auction to Win a Valentine's Dinner on Concorde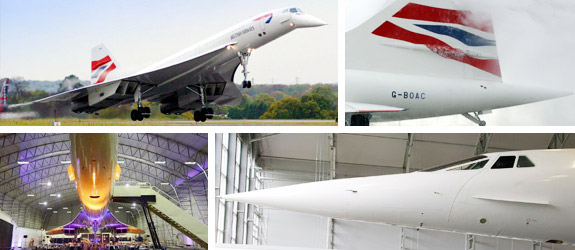 British Airways have announced a charity auction that will allow a pair of high-flying romantics to enjoy the ultimate Valentines dinner date.
The airline is inviting couples to bid in the auction for the chance to be wined and dined on board the world's most iconic aircraft – without even leaving the ground. The highest bidder will win a romantic dinner for two on board the British Airways flagship Concorde G-BOAC at Manchester Airport's Runway Visitor Park on February 14.
The lucky couple will receive red carpet treatment from the steps of Concorde to their exclusive table for two in the main cabin, where they will be served a three-course dinner – created by a top chef – with a bottle of champagne to celebrate Valentine's Day.
"Concorde has always offered the ultimate in romance, you don't have to fly anywhere to appreciate the very intimate and luxurious surroundings of this beautiful aircraft. To have it all to yourself for one evening is possibly the most romantic gesture you can make," said Cheshire toastmaster Ian Parrott, who actually flew to New York on Concorde twice during a previous career and who launched the auction this week.
Here are a few facts about Concorde:
British Airways received government approval for the production of the G-BOAC in December 1969
Concorde G-BOAC (affectionately known as 'Alpha Charlie') became the second aircraft to join the Concorde fleet when she was delivered to British Airways on 13 February 1976
Although G-BOAC was the second Concorde to be delivered, she is considered to be the flagship of the fleet as she carries the registration plate BOAC – which were the initials of British Airways' forerunner, British Overseas Airways Corporation, which merged with BEA (British European Airways) to form British Airways.
* Concorde was the world's first supersonic airliner
* A specification for the Anglo-French Mach 2.2 airliner was published in October 1962
* Concorde 001 made her maiden flight on 2 March 1969. Concorde 002 took to the air for the first time one month later on 9 April 1969
* Concorde entered commercial service on 21 January 1976. British Airways opened up a London to Bahrain service with G-BOAA and Air France launched a Paris to Rio service via Dakar with F-BVFA
* The airline's second Concorde G-BOAC – which is now in retirement at Manchester Airport's Runway Visitors Park – was delivered one month later on 13 February 1976
* During flight Concorde could stretch between 15 and 25 centimetres due to heating of the airframe. She is painted in a specially developed white paint to accommodate these changes and to dissipate the heat generated by supersonic flight
* Concorde's top cruising height was 60,000 ft – that's more than 11 miles above the surface of the Earth
* Concorde could accelerate from 0-225 mph in 30 seconds. She could travel faster than the earth rotates.
* More than 2.5 million people travelled on Concorde since she started commercial passenger services in 1976
* The first flight to New York was on 22 November 1977
* On 11 August 1999 two British Airways Concordes flew in a supersonic formation to chase the total eclipse of the sun
* 35,500 people travelled on Concorde since her re-launch in November 2001.