Urban Electric mobility era: BRABUS electric drive sports car with a green heartsmart fortwo and smart ebike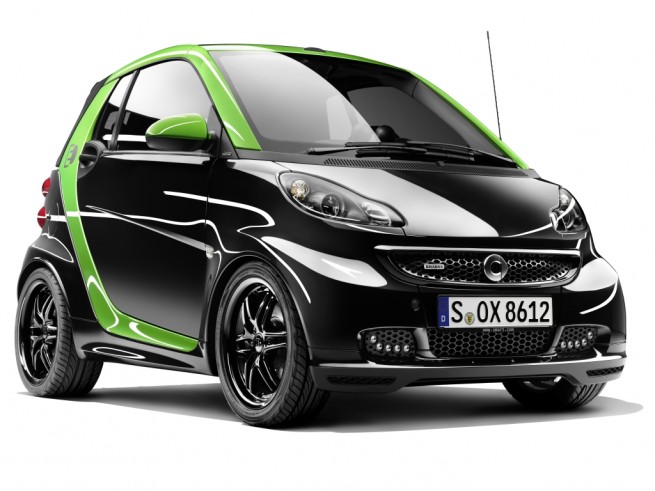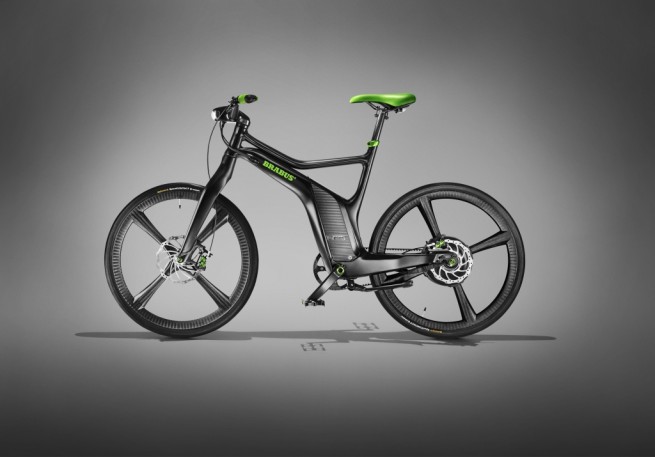 At the Geneva Motor Show the BRABUS versions of the smart fortwo electric drive and the smart ebike will show what these look like in the era of electric mobility. The dynamic character of both models is not only expressed in their appearance, but also in enhanced performance.
"The smart BRABUS electric drive is our sports car with a green heart", says smart boss Dr. Annette Winkler. "Electric driving in the city is more fun than ever with this 2.69 metre short bundle of power.
Zero local emissions but maximum driving fun: the smart BRABUS electric drive proves that cutting-edge urban mobility can be combined with lively agility and a sporty look. The electric motor is based on the state-of-the-art drive technology of the new smart fortwo electric drive and has an output of 60 kW. The smart BRABUS electric drive delivers maximum torque of 135 Nm, which means that it almost always wins when pulling away at the traffic lights.
The new BRABUS sports suspension makes a decisive contribution to driving fun by bringing the vehicle approximately ten millimetres closer to the asphalt. The sporty character is accompanied by a special BRABUS sound to match, generated by a sound module. The smart BRABUS electric drive comes with a BRABUS sports steering wheel with steering wheel gearshift as a standard feature. Recuperation can be regulated with the help of the shift paddles.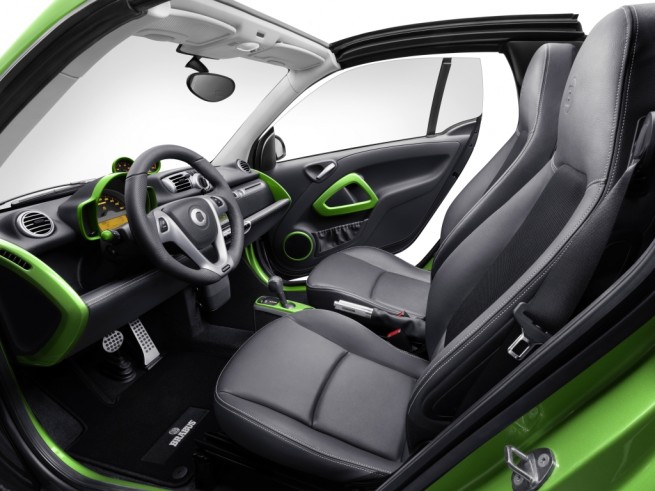 The smart BRABUS electric drive has a dynamic look that also signals environmental friendliness: the tridion safety cell and door mirror caps are painted in electric green whilst black dominates on all other body parts – even the front grille. Dark BRABUS headlamps, BRABUS "Monoblock VII" alloy wheels measuring 16″ at the front and 17″ at the rear, and BRABUS Xclusive aerodynamic body styling parts (a front spoiler and a special rear apron insert with double reflectors) round off the sporty look.
In the interior accent trim parts and contrast components also come in electric green. Numerous BRABUS Xclusive components, including the instrument panel and interior door trim in leather look, leather seats, stainless steel sports pedals with rubber nubs, BRABUS hand-brake handle and BRABUS dashboard instruments (cockpit clock and rev counter) lend the interior a dynamic and exclusive look.
smart BRABUS ebike is celebrating its world premiere at the Geneva Motor Show. The two-wheeler can reach a speed of up to 45 km/h and offers a further enjoyable way of getting around the city and countryside. The production version of the smart BRABUS ebike is expected to be available from dealers from the end of 2012.