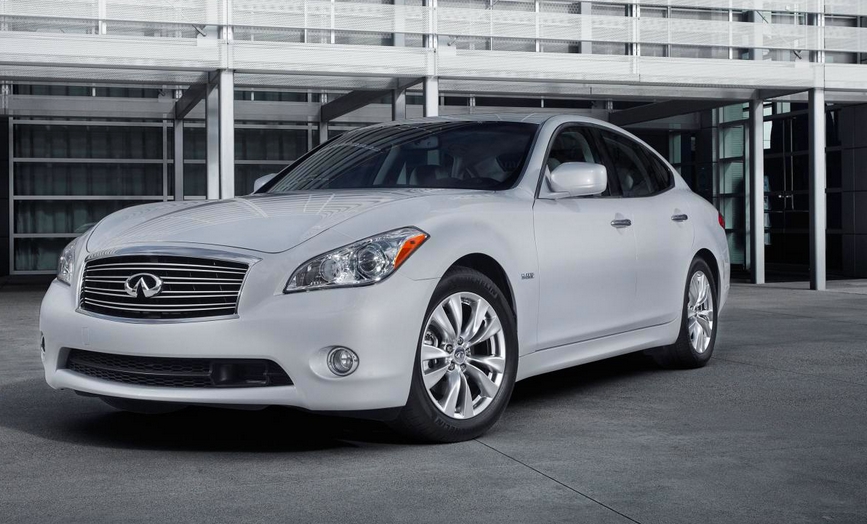 Infiniti adds first gas-electric hybrid – M35
Infiniti is finally gasoline-electric hybrid. The new 2012 Infiniti M35h it is rated 38 percent more fuel efficient overall than its non-hybrid, V-6-powered M35 sibling.
Drivers can get 9 more miles from a gallon of gas in city traffic and 6 more miles a gallon on the highway by driving the M35h rather than the regular Infiniti M35 model. And the M35h helps prod the driver to meter gasoline via an accelerator pedal that feels like it has a brick behind it whenever a computer in the car determines that the driver isn't being fuel-conscious.
Starting manufacturer's suggested retail price, including destination charge, for the 2012 M35h with V-6 and electric motor is $53,595. The government fuel economy rating is 27/32 mpg. That compares with the $48,595 starting retail price for a non-hybrid, V-6 powered, 2012 M35 that's rated at 18/26 mpg.
[adsenseyu1]
Competitors to the M35h include the 210-horsepower Mercedes-Benz E350 Bluetec sedan, which has a starting MSRP, including destination charge, of $51,775 as a 2011 model and has a fuel economy rating of 22/33 mpg as it runs on diesel fuel. Lexus' 2012 HS 250h, which is a luxury gas-electric hybrid sedan, has a starting retail price of $37,030 and had a 2011 rating of 35/34 mpg.
Infiniti M35h is designed to be a luxury car like the other M sedans and so is swathed in leather inside and has many standard convenience features such as power moonroof, 10-way adjustable front seats, intelligent key access, push button start, Bluetooth phone connectivity and rearview monitor.
Standard safety equipment on the 2012 M35h includes six air bags, electronic stability control, antilock brakes and traction control, plus the rearview monitor. Other safety equipment is optional and includes lane departure warning and prevention system, managed, intelligent cruise control and blind spot warning.
[adsenseyu1]
More: google news