Dior Rêverie Technology: one-of-a-kind couture handset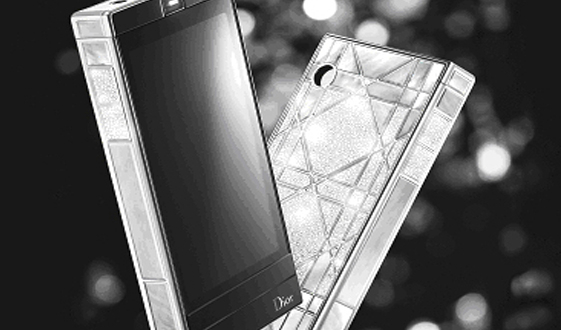 Hand assembled in France, the full touch-screen Rêverie is the ultimate luxury handset from Dior Phone. Adorned with 1,539 diamonds, 18-karat white gold and 46 pieces of natural white mother-of-pearl marquetry with the Dior cannage pattern, the compact, high-performance luxury multitouch LCD telephone brings the French luxury house's classic elegance soaring into the modern technological age.
The one-of-a-kind high-end couture handset offers an insight into the life of Monsieur Dior – the creative studio, fitting sessions, the backstage buzz. The ring tone and touch tone have been composed to reflect the House of Dior, from history to present.
Dior Phone Rêverie features 3G+, Wifi, Bluetooth, Quad band, A-GPS, Google Maps, Facebook, Twitter, MP3 Video Camera 5MP, Dolby Sound.
Dior Rêverie (103,1mm x 50,3 mm x 12,8 mm, 137g Battery life: 12 days standby, 3h45 talk time) phone is available exclusively at Harrods Technology department, priced at £78,000.