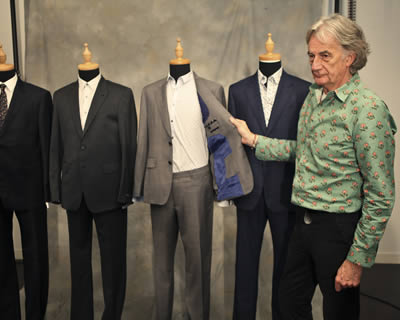 British designer Paul Smith and Woolmark, owner of the world's best known textile fibre brand, announced a collaboration that will see Australian Merino wool being highlighted across the Paul Smith Men's London collection for SS 14 and AW 14/15. In support of Merino wool, Paul Smith will take an ambassadorial role in collaborating with The Woolmark Company on a co-branded campaign for both seasons.
The Woolmark Company, which collaborates with leading names in the global fashion and media industry to position Merino wool as a natural, luxury fibre at the top end of the market, has chosen Paul Smith for a global collaboration to highlight his design philosophy of 'individuality' and affirm the place of Merino wool as a premium, innovative and versatile fibre.
For his first collection with The Woolmark Company, through the Men's London collection for SS 14, Paul Smith will focus on the use of Cool Wool. Seven worsted Cool Wool fabrics woven by leading European mills have been selected as the mainstay of the collection. Cool Wool fabrics are made from fine Australian Merino wool fashioned into lightweight fabrics through modern manufacturing and processing techniques.
"I have always been a fan of natural fibres, cotton for shirts and wool for the rest, a good staple diet for a fashion designer," said the designer. "Of course over the years since I started, there has been lots of other new high-tech fabrics that have arrived but I still tend to stick with my wool.
"Cool Wool is very important for us because we are selling into 72 countries around the world, and a lot of the countries we sell to are very hot all year round or very humid and Cool Wool has really helped us with that…and high twist wools and fabrics that have life, because a lot of our clients are actors, fashion designers, architects, graphic designers, people who are on aeroplanes and trains, travelling all the time so you need fabrics that have got life."Merino wool is the natural fibre of choice for a spring/summer collection due to its natural breathability, softness, drape, moisture absorption and inherent temperature regulating properties – providing fabrics with luxurious style, shape and elegance.
"Paul Smith is a brand that is synonymous with style and as a designer and identity Paul Smith resonates with global consumers as a name they trust and respect," explained Robert Langtry, Chief Strategy and Marketing Officer of The Woolmark Company. "We are pleased to be announcing this partnership with Paul Smith which reaffirms the strong position wool holds in this market while Cool Wool highlights its versatility."