Denzel Washington Voted Top Money-Making Star of 2012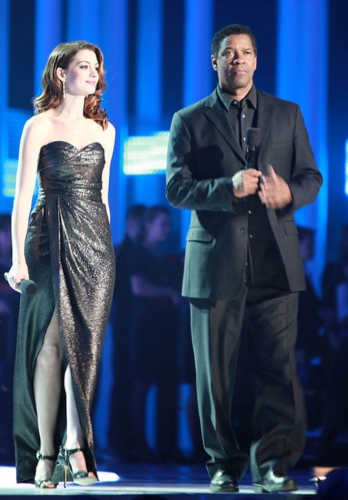 Quigley Publishing Company's 81st Annual Poll of Motion Picture Exhibitors voted Denzel Washington as the Top Money-Making Star of 2012. This is Washington's eighth appearance in the Quigley Poll, and his first win. Exhibitors felt Washington was responsible for more traffic to movie theatres than any other Hollywood star this year based on his performances in "Flight" and "Safe House." Washington is the fourth black American to win the Poll, joining Will Smith (2005), Eddie Murphy (1987) and Sidney Poitier (1968).
The Quigley Poll, conducted each year since 1932, is an annual survey of motion picture theatre owners and film buyers, which asks them to vote for the ten stars that they believe generated the most box-office revenue for their theatres during the year. It has been long regarded as one of the most reliable indicators of a Star's real box-office draw because the selections are made by professionals whose livelihood depends on choosing the films and actors that will bring audiences to their theatres. It draws a distinction among stars that happen to appear in hit films and those stars that Exhibitors and film buyers believe actually cause an audience to come to their theatres.
Top Ten Money-Making Stars of 2012:

Denzel Washington
Anne Hathaway
Hugh Jackman
Mark Wahlberg
Johnny Depp
Daniel Craig
Daniel Day-Lewis
Brad Pitt
Leonardo DiCaprio
Robert Downey , Jr,
Stars of Tomorrow:
Joseph Gordon-Levitt
Jennifer Lawrence.
The only woman in the Top Ten this year, Anne Hathaway , placed second with her roles in "Les Miserables" and as Catwoman in "The Dark Knight Rises." Hugh Jackman and Mark Wahlberg , both with their initial Poll appearance, were third and fourth respectively. Jackman was in "Les Miserables" and a voice talent in "Rise of the Guardians" and Wahlberg scored with "Contraband" and in the sleeper hit of the year, "Ted." Johnny Depp was in "Dark Shadows" and had an uncredited role in "21 Jump Street," but still managed a fifth this year. He has been in the Top Ten eight times, with wins in 2010, 2007 and 2006.
Daniel Craig made his second showing in the Top Ten in sixth place with "Skyfall" and Daniel Day-Lewis , playing "Lincoln," had his debut in seventh place. Last year's winner, Brad Pitt , made it seven years in the Poll and was voted into the eighth spot. Leonardo DiCaprio was ninth with a performance in "Django Unchained" and has been in the Quigley Poll eight times. Robert Downey, Jr. came in tenth with his performance in "The Avengers."
Exhibitors were also asked to name the Stars of Tomorrow for 2012: one male and one female who they feel will be Top Money-Makers in the years to come. The 2012 winners are Joseph Gordon-Levitt who was in "The Dark Knight Rises," "Looper," "Lincoln" and "Premium Rush" and Jennifer Lawrence who had breakthrough performances in "The Hunger Games" and "Silver Linings Playbook" and starred in "House at the End of the Street."