Shifting style across five decades


The V&A museum in London houses "David Bowie is" – the first international retrospective of David Bowie's career and a show full of clothes that have shaped fashion history. The exhibition illustrates Bowie's immense creative influence and ubiquitous presence in music, fashion and contemporary visual and virtual culture. The V&A has been working with the David Bowie Archive for 3 years ahead of the exhibition.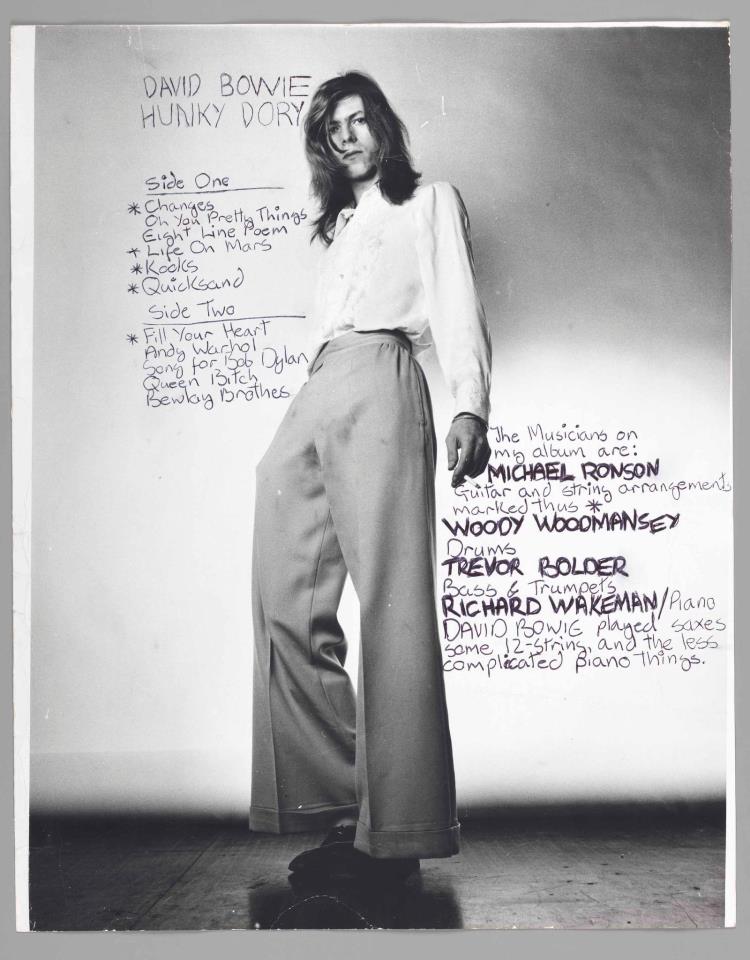 The V&A's Theatre and Performance curators, Victoria Broackes and Geoffrey Marsh have selected more than 300 objects that brought together for the very first time. They include handwritten lyrics, original costumes, fashion, photography, film, music videos, set designs, Bowie's own instruments and album artwork and more personal items such as never-before-seen storyboards, handwritten set lists and lyrics as well as some of Bowie's own instruments, sketches and diary entries.
The "David Bowie is" exhibition is sponsored by Gucci and Sennheiser (the sound experience). "Bowie's shameless androgyny helped women express their masculine strength without losing their feminine glamour and sensuality," said Gucci's Creative Director Frida Giannini, a longtime fan of Bowie.
"Catsuits tend to grab headlines. But from a fashion angle, the true stars of this show are the suits," said The Guardian's Jess Cartner-Morley. "Bowie's tailoring is a joy to be savoured. When Slimane moved into his minimalist design studio on taking over Dior menswear, he added just one photo to the white walls, of Bowie in 1975 presenting a Grammy award to Aretha Franklin, wearing a wide-lapelled black suit, white bow tie and black fedora hat. That suit is here.
The David Bowie Is exhibition at the V&A museum in London runs from 23 March-11 August 2013.