A new luxury Daniel Marshall 100 Cigar Humidor line: 30100 Series humidor.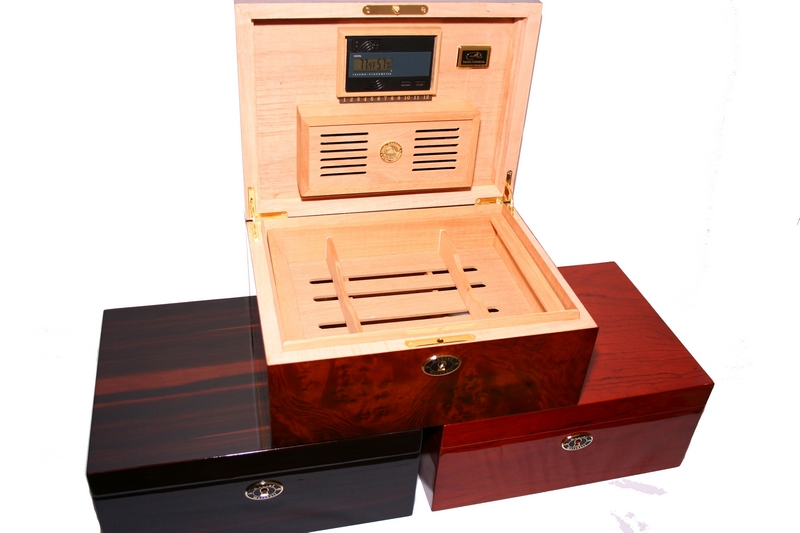 Legendary premium cigar humidor manufacturer Daniel Marshall announced a new luxury Daniel Marshall 100 Cigar Humidor line with a greater focus on the pure beauty of the exotic woods and cigar organization. The 30100 Precious Wood
Humidor is the best-selling, top of the line mid-sized humidor manufactured by Daniel Marshall, the ultimate humidor
for the cigar aficionado, or collectors gift.
Founded in 1982, the company is well known for its 20165 Limited Series Humidor. The 20165 has received wide critical
acclaim from sources such as Cigar Aficionado Magazine, which named the humidor a "Best Buy" with the highest possible
rating. In 2014, New York area online cigar & accessory distributor Cigar Manor and Daniel Marshall partnered up to
introduce for the first time ever, the 20165 Cigar Humidor with a built in tray. Daniel Marshall, as he continues to
grow his humidor business, has also become a key player in the Cigar market. Daniel Marshall offers a Red Label Cigar
Line as well as the genius Golden Cigar, wrapped in 24k Gold.
The new limited edition offers three different customizations: Precious Burl Wood, Macassar Ebony and Cocobolo
Rosewood, with pure exotic wood edge to edge (no black trim). Additionally, a built in tray will be included to
enhance the cigar organization.
Due to Daniel Marshall's high-quality control and limited quantity production, the humidors will take a few months to
complete.