Dalmore Constellation Collection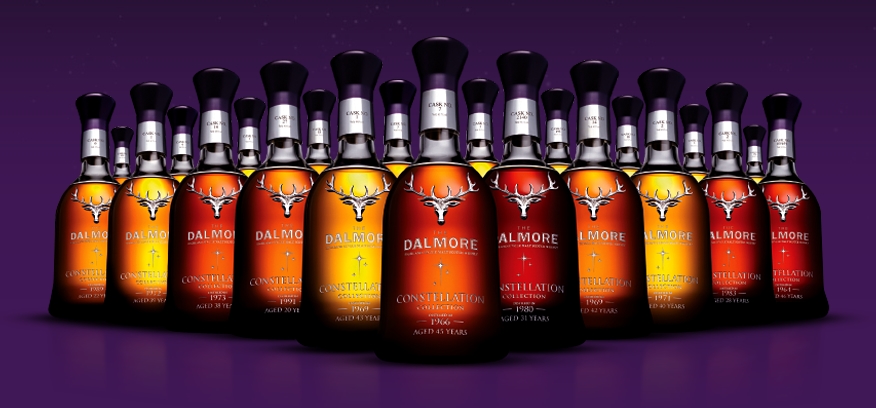 The Dalmore Constellation Collection brings together, for the first time, the complete spectrum of vintages created in our iconic Highland distillery between the years 1964 and 1992. The 21 single cask whiskies that make up this collection are truly a remarkable piece of craftsmanship. The handblown crystal decanters housed in a bespoke lacquered presentation cabinet are engraved by hand and adorned with a solid silver stag.
"As the latest in a long line of distillery managers I, like those before me, have had the sincere honour of watching over the Constellation Collection as it has slowly matured," said Ian Mackay, Distillery Manager.
"After 30 years experience in the whisky industry, I can confidently say that within this collection are some of the finest expressions to ever be released from The Dalmore distillery. It is the very special vintages like those in the Constellation Collection that makes looking after The Dalmore not a job, but a way of life. My predecessors and I are guardians of that legacy. While distillery managers may come and go, The Dalmore endures for generations to enjoy."
"As you would expect from The Dalmore, each unique cask follows time-honoured methods of artisanship, slowly maturing in our dark warehouses, naturally cooled by the damp maritime winds rolling in from the North Sea," added Richard Paterson, Master Distiller at Dalmore.
"Maturation is an entirely natural process and we have sought to retain the purity, texture and mouth-feel and, as such, have rejected modern chill filtration prior to bottling. The end result is a whisky rich in flavour and aroma. Rare single malts, when crafted in this traditional way, sometimes form a slight haze when cold and in some rare instances, a small sediment deposit. This is a completely natural occurrence and proof of a superior expression distilled and matured to the finest standards."