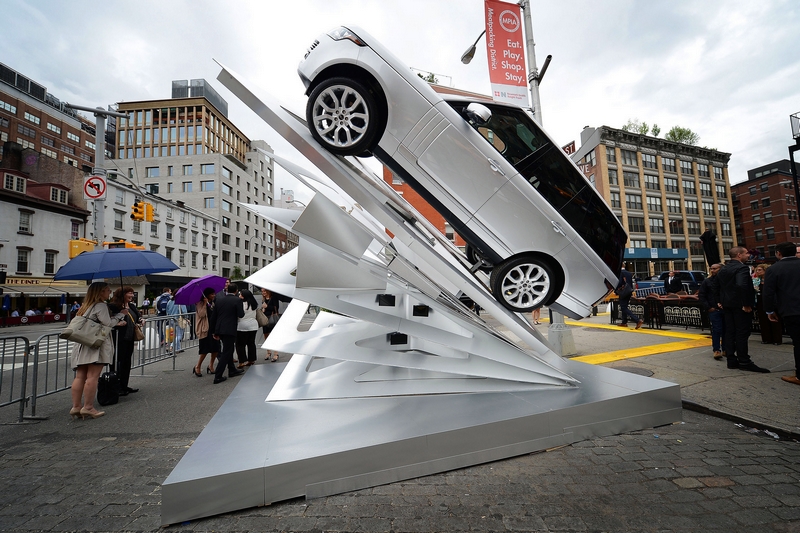 Land Rover North America has teamed up with Architectural Digest and the New York-based design firm Hollwich Kushner (HWKN) to create a one-of-a-kind public art installation, inspired by the aluminum body of the 2013 Range Rover vehicle. The installation was on display in New York City's Meatpacking District.
The public art installation, titled Climbing Up and created by HWKN founders Matthias Hollwich and Marc Kushner, incorporated many of the same aluminum materials that make up the 2013 Range Rover vehicle, and featured the vehicle through an evocative, interactive experience.
"The all aluminum structure of the 2013 Range Rover allowed Land Rover to shed 700 pounds from the outgoing model; making it faster and more fuel efficient," said Kim McCullough, Brand Vice President, Land Rover North America. "This spectacular public art installation speaks to the physical properties of high-strength aluminum, as well as the design aesthetic of the 2013 Range Rover and we're excited to see how it draws attention and discussion to our next generation Range Rover."
Utilizing aluminum rivet-bonds, the installation's design was tied to the 2013 Range Rover vehicle's form, picking up on three distinct lines that define the vehicle's iconic design. In developing the installation, HWKN used a series of plates to create a triangulated structure spine that supports the car, which will rest at a dramatic angle. The effect, say Hollwich and Kushner, is that the car will seemingly be in motion even as it sits atop the structure.
"We were inspired by the assembly, form and performance of the 2013 Range Rover and that dictated everything we did," Hollwich said.
"The design of the vehicle itself is so rooted in architecture, and we wanted to translate that DNA into our installation," Kushner said. "At the same time, we wanted to convey how strong – yet light – the all-aluminum vehicle structure is."
"We knew that Matthias, Marc and the team at HWKN were up to the challenge Land Rover gave us," said Giulio Capua, Vice President and Publisher of Architectural Digest. "We're thrilled with the concept they came up with. It represents the best kind of design: it makes an emotional connection with our design-focused community, while conveying the essence of the Land Rover brand."