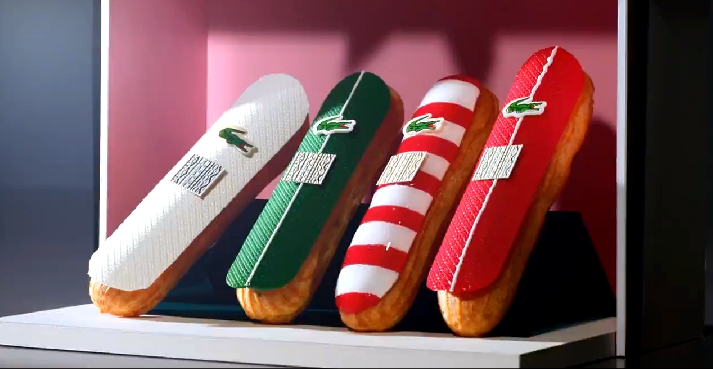 French haute pastry house of Fauchon dresses its colored eclairs in Lacoste. For their 80 years Anniversary, Lacoste introduced 9 collaborations with 9 "Maisons Françaises"  (Goyard, Baccarat, Bernardaud, Boucheron, Christofle, Veuve Clicquot, S.T. Dupont), in Paris' Collette window from June 10 to June 15.
The famous crocodile and the clothing brand's signature colors on the limited-edition Fauchon treats will embody Lacoste polo shirt and leathergoods. The edible green logo is topped with a marshmallow or a glossy pink version of the crocodile. Fauchon's eclairs middles are flavored in almond, green tea, vanilla, lemon or strawberry.
The French apparel company founded in 1933 can be recognized by its green crocodile logo inspired by the nickname of
René Lacoste, the company's founder. His tenacity on the court brought him the nickname "the Crocodile".
Fauchon's crocodile éclairs are available for €7 apiece and a four-piece box for €28.