This article titled "China's economic growth slows to 7.6%" was written by Tania Branigan in Beijing, for The Guardian on Friday 13th July 2012 07.36 UTC
China's growth has slowed to its lowest rate since the depths of the global financial crisis in 2009, though analysts voiced optimism on Friday that the economy may have bottomed out already.
Second-quarter growth of 7.6% – down from 8.1% in the previous three months – was in line with expectations, but dampened hopes that the world's second largest economy would help to offset wider woes.
"The growth rate of 7.6% is already an achievement because the economic situation facing China has been complex and severe," said Sheng Laiyun of the National Bureau of Statistics.
"We have seen tepid domestic and external demand."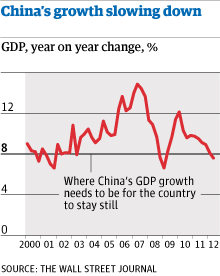 Growth in the first half of the year stood at 7.8% overall, with Europe's struggles and government curbs on the property market weighing on the economy. The Asian Development Bank trimmed its forecast for the year from 8.5% to 8.2% on Thursday – echoing the World Bank's move in May.
The Chinese premier, Wen Jiabao, warned last week that the economy "still faces relatively huge downward pressure". Lower than expected consumer inflation and import growth, in addition to producer price deflation, have also unnerved investors.
Xianfang Ren, an economist at IHS Global Insight in Beijing, told Reuters: "Overall, this is a soft landing, but we can see that the Chinese economy is undergoing serious pain.
"I have 80% confidence that the economy will pick up in the third quarter as we have been in a slowdown for six consecutive quarters now."
Xiao Li, an economist at Industrial Bank in Shanghai, told AP: "It is not certain whether or not there will be a strong upward rebound. But at least the economic growth rate will stop coming down."
Sheng said the slowdown partly reflected China's shift to a more sustainable development pattern after years of double-digit growth. The government has set its target for GDP growth this year – which rarely bears much resemblance to the actual figure – at just 7.5%, after years of an 8% goal.
"The downside risks remain, but the government has plenty of tools in its hands to make sure it won't collapse. The issue is whether the government can adjust to steady and healthy growth in the medium term," said Qian Liu of the Economist Intelligence Unit.
"Obviously in the last few months, things have been slower than anyone wanted or expected – they succeeded in scaring people out of buying houses so the residential property sector fell; and they frightened local officials and bankers in terms of infrastructure. They have fixed that," said Andy Rothman of researchers CLSA.
"China's economy survived a period of much slower growth in 2009, where there were massive layoffs, without social unrest or serious problems."
The government has already cut interest rates twice in a month and lowered the amount of cash that banks must hold as reserves three times since November. Analysts expect further easing of monetary policy, but officials have insisted they will not launch a stimulus package comparable to the 4tn yuan (£405bn) package of 2008.
Retail sales growth in June fell to 12.1% from 13.8% the previous month, while growth in factory output ebbed slightly from 9.6% to 9.5%.
Fixed asset investment growth – the key driver of economic expansion over the last decade – was 20.4% in the year to June, slightly above expectations, with a sharp acceleration in the last month.
The government has long vowed to rebalance the economy away from its reliance on investment and exports towards domestic consumption, but experts say progress is proving painfully slow.
Wen told economists this week: "The measures to stabilise economic growth include boosting consumption and diversifying exports, but currently, what is important is to pursue a reasonable growth of investment."
guardian.co.uk © Guardian News & Media Limited 2010
Published via the Guardian News Feed plugin for WordPress.