Chanel Spring-Summer 2013: renewable energy is powering the classic house.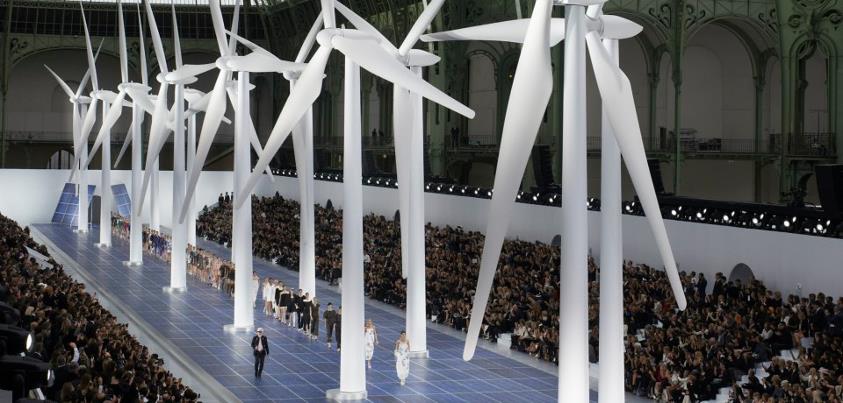 Karl Lagerfeld matched oversized pearls, cotton blends of the highest quality and wind turbines for Chanel new Spring-Summer show at the Grand Palais in Paris. The airy feel was achieved with a giant blue solar-panel pattern.
"Its all about volume and lightness, which normally don't go together," explained Karl Lagerfeld.
While Dior and Yves Saint Laurent, Chanel's competitors, rely on fresh creative forces of Raf Simons and Hedi Slimane, Chanel used the renewable energy metaphor to appeal to the younger generation as well as its fan base.
"Energy is the most important thing in life," Lagerfeld repeated several times.
68 girls modelled 80 looks that included short skirt, short black dresses bolero jackets, bright coloured cropped jacket silhouette, sheer dresses with feathers at the rim, tube mini-dress, outsized pearls, and a beach bag with giant circular handles, the only "CC" monogram in the collection.
"No braids, no classic Chanel buttons, no chains, just pearls, pearls and pearls, that's all," said the designer. "All that is gone, and yet it still looks very Chanel, I find."
Meanwhile, Chanel's "The Little Black Jacket" arrives in London on October 12th. After Tokyo, New York, Taipei and Hong Kong, CHANEL's photo exhibition, dedicated to Karl Lagerfeld's latest book, will make it's UK debut at the Saatchi Gallery. Window displays in Chanel's London boutiques will present a selection of jackets from the latest collections.
From October 12 until October 28 at The Saatchi Gallery, Duke of York's HQ, King's Road, London, SW3 4RY.