Mercedes-Benz SLS AMG Coupé Electric Drive: Electrifying – the world's most powerful electric super sports car
Advanced Formula 1 technology: high-voltage lithium-ion battery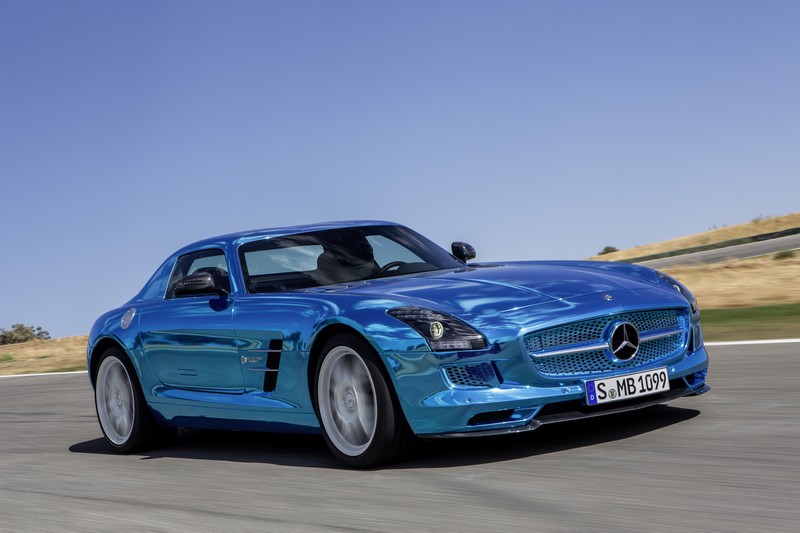 Mercedes-Benz vision of the most dynamic electric vehicle has become a reality with SLS AMG Coupé Electric Drive – the world's most powerful electric super sports car. The exciting advanced technology from the world of Formula 1 is brought to the road.
Aimed at technology-minded super sports car fans, the most powerful AMG high-performance vehicle of all time has four electric motors producing a total output of 552 kW and a maximum torque of 1000 Nm. As a result, the gullwing model has become the world's fastest electrically-powered series production vehicle: the SLS AMG Coupé Electric Drive accelerates from zero to 100 km/h in 3.9 seconds, and can reach a top speed of 250 km/h (electronically limited).
The most "electrifying" gullwing model ever has been developed in-house by Mercedes-AMG GmbH. The high-voltage battery for the supercar is the result of cooperation between Mercedes-AMG and Mercedes AMG High Performance Powertrains in Brixworth (GB).
The high-voltage battery in the SLS AMG Coupé Electric Drive boasts an energy content of 60 kWh, an electric load potential of 600 kW and weighs 548 kg – all of which are absolute best values in the automotive sector. The liquid-cooled lithium-ion high-voltage battery features a modular design and a maximum voltage of 400 V.
The spontaneous build-up of torque and the forceful power delivery without any interruption of tractive power are combined with completely vibration-free engine running characteristics.
The four compact permanent-magnet synchronous electric motors, each weighing 45 kg, achieve a maximum individual speed of 13,000 rpm and in each case drive the 4 wheels selectively via a axially-arranged transmission design. This enables the unique distribution of torque to individual wheels, which would normally only be possible with wheel hub motors which have the disadvantage of generating considerable unsprung masses.
Ideally the SLS AMG Coupé Electric Drive is charged with the aid of a so-called wall box. Installed in a home garage, this technology provides a 22 kW quick-charge function, which is the same as the charging performance available at a public charging station. A high-voltage power cable is used to connect the vehicle to the wall box, and enables charging to take place in around three hours. Without the wall box, charging takes around 20 hours.
The SLS AMG Electric Drive comes as standard with 265/35 R 19 tyres on the front and 295/30 R 20 tyres on the rear. The overall look is rounded off to dynamic effect by the new diffuser-look rear apron, and the darkened rear lamps. One feature reserved exclusively for the SLS AMG Coupé Electric Drive is the "AMG electricbeam magno" matt paint finish. A choice of five other colours is available at no extra cost.
In addition to carbon-fibre exterior mirrors, AMG carbon-fibre engine compartment cover, COMAND APS, Media Interface, Blind Spot Assist and reversing camera, the standard equipment also includes the AMG Performance Media system. Besides full high-speed mobile internet access, the system provides information on engine performance, lateral and longitudinal acceleration, tyre pressure, vehicle setup and lap times, as well displaying a variety of additional information such as: vehicle energy flow, battery charge status, burrent range, AMG Torque Dynamicstemperatures of the battery and motors, energy consumption kWh/100 km.
When it will be launched in 2013 The Mercedes-Benz SLS AMG Coupé Electric Drive will cost 416,500 euros (incl. 19% VAT) in Germany.