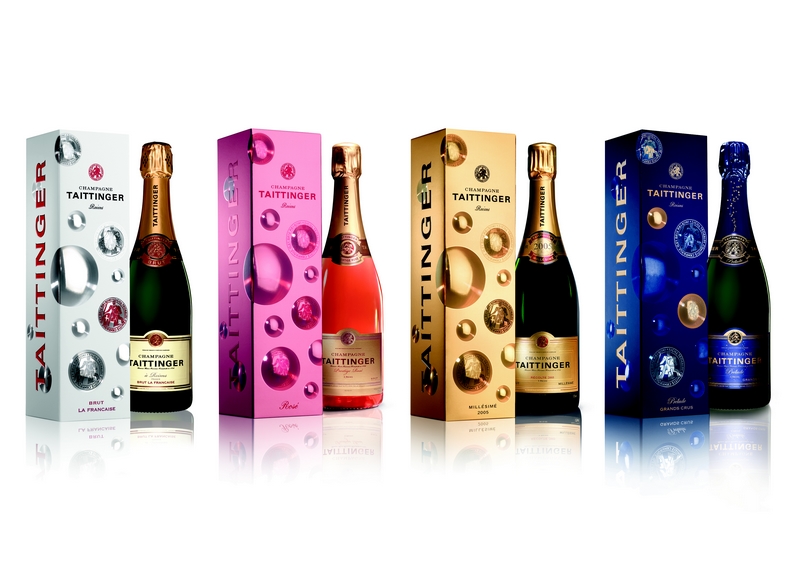 Champagne Taittinger unveiled new gift packaging at the 19th Annual Screen Actors Guild Awards in their 13th consecutive red carpet toast. The 19th Annual Screen Actors Guild Awards opened with the Taittinger Moment Champagne red carpet toast. Vitalie Taittinger, Global Ambassador and Artistic Director of the historic Champagne house, and actor Peter Facinelli, a SAG Awards ensemble nominee for "Nurse Jackie," toasted the 19th annual awards from a red podium framed by a backdrop of spiraling golden bubble boxes, Taittinger's newest packaging.
"… This year I am delighted to introduce our new award winning 'bubble' gift packaging as the backdrop for the toast. The special golden bubbles accentuate the box, making it a perfect fit for Champagne and a glamorous opening to the red carpet," said Vitalie Taittinger.
The 'Bubbles' hologram-effect gift packaging is available in white for Champagne Taittinger's Brut La Française, pink for Prestige Rosé, gold for Millesime 2005 and blue for Prelude. The 3D sparkling bubbles give the appearance of being raised but are completely flat.
Immediately following the toast, Champagne Taittinger uncorked an ocean of Champagne Taittinger's Brut La Française NV; 160 magnums at the SAG Awards dinner, 155 750 ml bottles at the showroom bars, 288 750 ml bottles at the SAG Awards Gala and two 6 liter methusalems signed by the awardees for the SAG Foundations auctions.