British Airways announces charity 'Gig in the Sky'
Tony Hadley joins British Airways for Comic Relief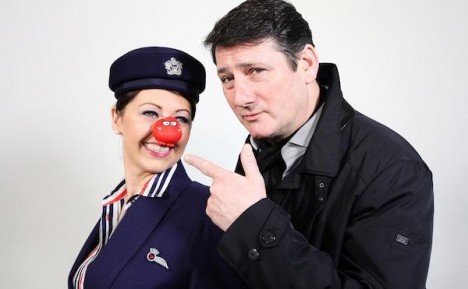 British Airways will attempt to break a Guinness World Record for the "Highest Concert", flying up to 43,000ft and hosting the 'Highest 80s Gig in the Sky' on Sunday 10 March for Red Nose Day (a fundraising event organised by Comic Relief) – with Bananarama, Tony Hadley (Spandau Ballet), Kim Wilde and Go West performing. The gig will raise money for Flying Start – British Airways' charity partnership with Comic Relief, in aid of Red Nose Day (15 March).
The eighties concert harks back to the time when Comic Relief started. In keeping with the theme there will be British Airways crew in original uniforms from the era – a dashing Roland Klein two-piece nicknamed 'the deckchair' for its vertical stripes and shoulder pads. Menus from the golden era will be brought back with canapés including; cocktail sausages, pineapple and cheese on skewers, mini prawn cocktails, pineapple upside down cake, gobstoppers and popping candy, announced BA.
"It's fantastic to be a part of this unique Flying Start event raising money for Red Nose Day. I've played in some pretty unusual places, but a gig in the sky with my favourite airline is a first for me, and I'm very excited about breaking a new Guinness World Record too!" said Tony Hadley.
"We are proud to have supported Comic Relief right from the start. Since then, the charity has helped at least 50 million people in Africa and across the world. We are delighted to be once again showing our support through this exclusive 80s gig with British Airways." commented Bananarama, who teamed up with Dawn French, Jennifer Saunders and Kathy Burke to record 'Help' as a charity single for Red Nose Day 1989.
The iconic 80s girl-band whose hits include 'Cruel Summer', 'Robert De Niro's Waiting', 'Love in the First Degree' and 'Venus' will perform in the British Airways lounge ahead of take-off, along with Go West – best known for 'The King of Wishful Thinking' and 'Call Me'.
The in-flight gig hosted by Shane Richie will see Tony Hadley perform classic Spandau Ballet hits, such as 'True' and 'Gold', alongside Kim Wilde famed for 'Kids in America' and 'You Keep Me Hanging On' success.